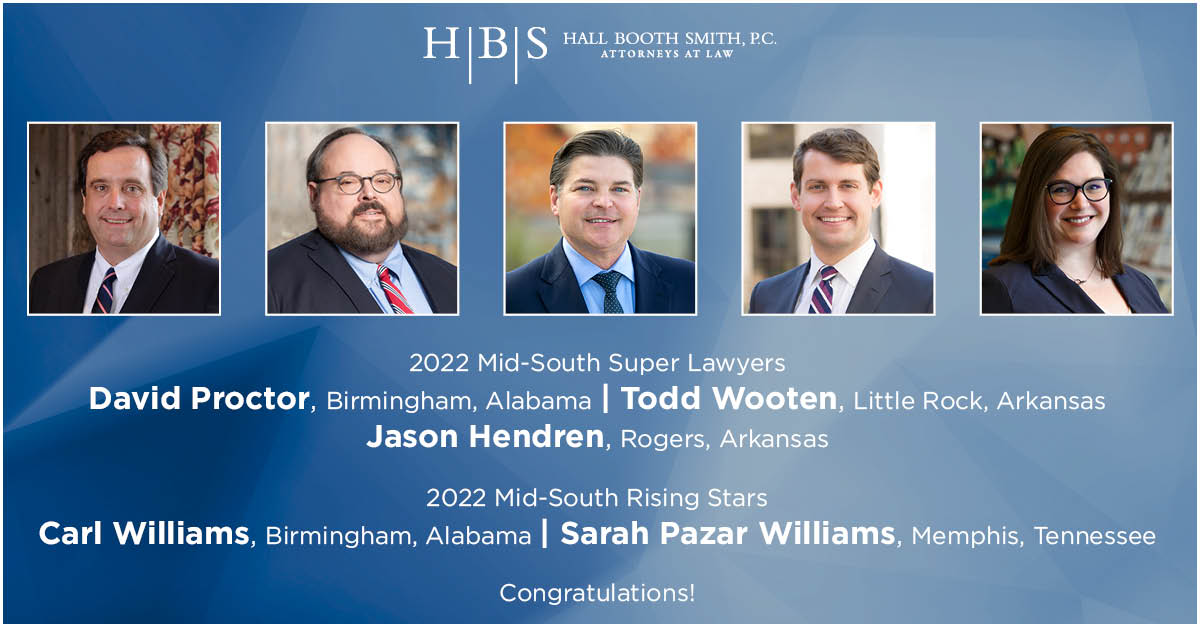 Five HBS Attorneys Recognized in the 2022 Mid-South Super Lawyers Magazine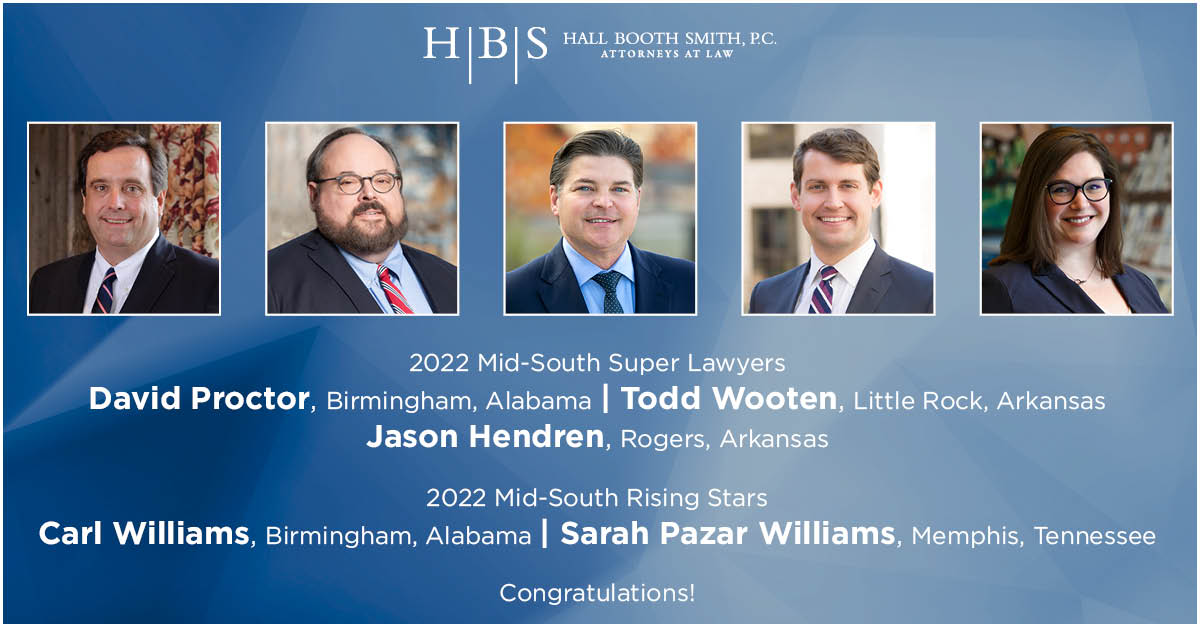 In the 2022 Mid-South Super Lawyers magazine, the law firm of Hall Booth Smith (HBS) has been recognized for its outstanding legal work as 5 of its attorneys are on the list of Super Lawyers and Rising Stars. The list recognizes outstanding lawyers from more than 70 practice areas who have attained a high-degree of peer recognition and professional achievement. Super Lawyers recognizes no more than 5 percent of attorneys in each state.
2022 Mid-South Super Lawyers
2022 Mid-South Rising Stars
HBS would like to congratulate the recipients of this year's Super Lawyers and Rising Stars awards. These honors recognize the outstanding legal work performed by HBS attorneys and bolster the firm's reputation as a leading law firm.
The Recipients
Birmingham Partner David Proctor was recognized for the 10th consecutive year on the Super Lawyers list for his outstanding work in medical malpractice defense.  Mr. Proctor has over 30 years of trial experience, including defending physicians in medical malpractice actions, breach of warranty and fraud defense on behalf of automobile manufacturers, complex products liability cases, defending management in employment discrimination cases and EEOC matters, and consumer finance arbitration work in the financial services industry. He has tried dozens of jury trials to verdict in various state and federal courts in Alabama.
Little Rock Partner Todd Wooten was honored for his work in general liability defense. Todd has tried more than 165 cases over a legal career spanning a quarter of a century. He focuses his practice on aging services, construction, medical malpractice, and professional malpractice and ethics matters as well as a wide range of other business disputes and liability matters and has first-chaired numerous complex cases in federal and state courts.
Jason Hendren is a Partner in the Little Rock office was listed as a Super Lawyer for his defense work in medical malpractice. Jason represents hospitals, physician groups, clinics, doctors, nurses, insurers, and other health care professionals in a wide range of complex medical malpractice litigation. He also defends clients in Emergency Medical Treatment & Labor Act (EMTALA) claims, HIPAA matters, and other complicated health care related litigation. In addition, he has a specialty practice in representing dentists, hygienists, oral and maxillofacial surgeons, orthodontists, and other dental providers in the wide variety of claims they may face.
Carl Williams is an Associate in the Birmingham office recognized to the 2022 Rising Starts list for his defense work in medical malpractice. He focuses his practice on health care, professional negligence, medical malpractice, business litigation, and general liability matters. Prior to joining HBS, Carl worked as a commercial litigation attorney for 4 years.
Sarah Pazar Williams is an Associate in the Memphis office recognized to the 2022 Rising Stars list for her work in personal injury medical malpractice defense. She has diverse experience practicing health care liability, medical malpractice, nursing home, and long-term care defense litigation. She has defended hospitals, nursing and long-term care facilities, physicians, and other medical professionals in state and federal court. Ms. Williams was selected as one of the Memphis Business Journal's Best of the Bar: Ace Associate honorees in 2020 and served as President of the Board of Directors of the Young Lawyers Division of the Memphis Bar Association in 2020.
About Hall Booth Smith
Established in 1989, Hall Booth Smith, P.C. (HBS) is a full-service law firm with six regional offices strategically located throughout Georgia, as well as offices in Birmingham, Alabama; Charleston, South Carolina; Asheville and Charlotte, North Carolina; Jacksonville, Miami, Tallahassee, Tampa, St. Petersburg, and West Palm Beach, Florida; Nashville and Memphis, Tennessee; Little Rock and Rogers, Arkansas; Oklahoma City, Oklahoma; Denver, Colorado; Missoula, Montana; Paramus, Red Bank and Saddlebrook, New Jersey; and New York and White Plains, New York. Experienced across a wide range of legal disciplines, HBS attorneys pride themselves on providing knowledgeable, proactive, client-specific counsel to individuals, domestic and international corporations, state and federal agencies, and nonprofit organizations. The firm's promise: "Serving to Achieve Excellence." To learn more, please visit: www.hallboothsmith.com or connect with us on LinkedIn.