Hall Booth Smith's Fulton and Raehn Appointed Delegates to S.C. Bar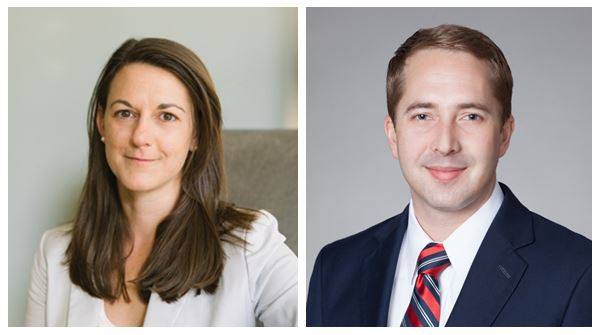 Hall Booth Smith, P.C. congratulates Associates Elizabeth F. Fulton and Jacob Raehn on their elections to the South Carolina Bar's House of Delegates for the 2018-2020 term.
Fulton was elected to serve as the Ninth Circuit Delegate starting on July 1. Raehn, who is based in HBS's Atlanta headquarters office and is originally from Hilton Head, South Carolina, was elected as an Out of State delegate.
The South Carolina Bar House of Delegates meets at least twice a year to establish policy for the Bar and act on matters that are inconsistent with House policy. The organization includes delegates from each judicial circuit across the state, in addition to two out-of-state delegates who are licensed in South Carolina. Judge Garry D. Malphrus, of the Federal Board of Immigration Appeals, will serve as the other 2018-2020 out-of-state delegate.
"It is a solemn honor to serve in the House of Delegates and help guide policy decisions that strengthen the South Carolina Bar," Fulton said.
Fulton is an Associate based in HBS's Charleston office, and specializes in general liability, insurance coverage, professional negligence and medical malpractice. She is an ambassador to the South Carolina Bar Foundation, and is a member of the South Carolina Lawyers Fund for Client Protection. She earned a Juris Doctor, cum laude, from the Charleston School of Law, and a Bachelor of Arts, magna cum laude, from East Carolina University.
Raehn is an Associate who focuses on health care, aging services, insurance coverage, professional negligence, and medical malpractice. He serves on the Board of Service Juris, Inc. and is a member of the National LGBT Bar Association. He earned a Juris Doctor from the University of South Carolina School of Law, and a Bachelor of Arts from Clemson University.
About Hall Booth Smith
Established in 1989, Hall Booth Smith, P.C. (HBS) is a full-service law firm with six regional offices strategically located throughout Georgia, as well as offices in Birmingham, Alabama; Charleston, South Carolina; Asheville and Charlotte, North Carolina; Jacksonville, North Palm Beach and Tallahassee, Florida; and Nashville and Memphis, Tennessee. Experienced across a wide range of legal disciplines, HBS attorneys pride themselves on providing knowledgeable, proactive, client-specific counsel to individuals, domestic and international corporations, state and federal agencies, and nonprofit organizations. The firm's promise: "Serving to Achieve Excellence." To learn more, please visit: www.hallboothsmith.com.