13 Nov

Mayor Teresa Tomlinson to Join the Law Firm of Hall Booth Smith, P.C.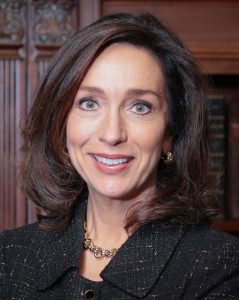 The law firm of Hall Booth Smith, P.C. (HBS) announced that Columbus, Georgia Mayor Teresa Tomlinson will join its firm as a partner specializing in complex litigation, crisis management and strategic solutions at the conclusion of her term. Mayor Tomlinson will be working out of the firm's Atlanta and Columbus offices.
"Teresa is an amazingly talented attorney and strategic thinker who will play a key leadership role in the firm, and help set the agenda for the future of the firm," said John Hall, senior partner and co-founder of the firm. "Her sharp mind and legal acumen will enhance our service to clients locally and nationally, and most importantly, her sterling character and passion for servant leadership align with the values that make HBS what it is today.
"This was just the perfect fit," said Tomlinson. "Hall Booth embraces both the litigation and the public service roles that have been so much a part of my professional life. It's a bonus that they are such great people in addition to being superb lawyers."
Tomlinson has served two-terms as the Mayor and Public Safety Director of the Columbus, Georgia Consolidated Government from January 2011 – January 2019. She holds a National Security Secret Clearance with the Department of Defense, and has been named one of Georgia Trend's 100 Most Influential Georgians for each of the last six-years. Tomlinson served on the Board of Director's of the Georgia Municipal Association from 2012-2016, and is a frequent guest contributor on political and legal matters for media outlets, such as Georgia Public Broadcasting; MSNBS's AM Joy Show; and The Daily Beast.
Prior to her time as mayor, Tomlinson practiced law for 16-years with the law firm of Pope, McGlamry in its Atlanta and Columbus offices. She is a graduate of Emory University School of Law and Sweet Briar College in Virginia. Tomlinson is a member of the Georgia Bar and has been admitted to practice before federal and state courts across the country, including the United States Supreme Court, Judicial Panel on Multidistrict Litigation, Eleventh Circuit Court of Appeals, the Eighth Circuit Court of Appeals, and the Georgia Supreme Court among others.
Established in 1989, Hall Booth Smith, P.C. (HBS) is a full-service law firm with six regional offices strategically located throughout Georgia, as well as offices in Birmingham, Alabama; Charleston, South Carolina; Asheville and Charlotte, North Carolina; Jacksonville, North Palm Beach and Tallahassee, Florida; and Nashville and Memphis, Tennessee. Experienced across a wide range of legal disciplines, HBS is known for its litigation, transactional and governmental affairs expertise, and represents clients from many sectors including healthcare, governmental entities, transportation and energy. HBS attorneys pride themselves on providing knowledgeable, proactive, client-specific counsel to individuals, domestic and international corporations, state and federal agencies, and nonprofit organizations. The firm's promise: "Serving to Achieve Excellence." To learn more, please visit: www.hallboothsmith.com.