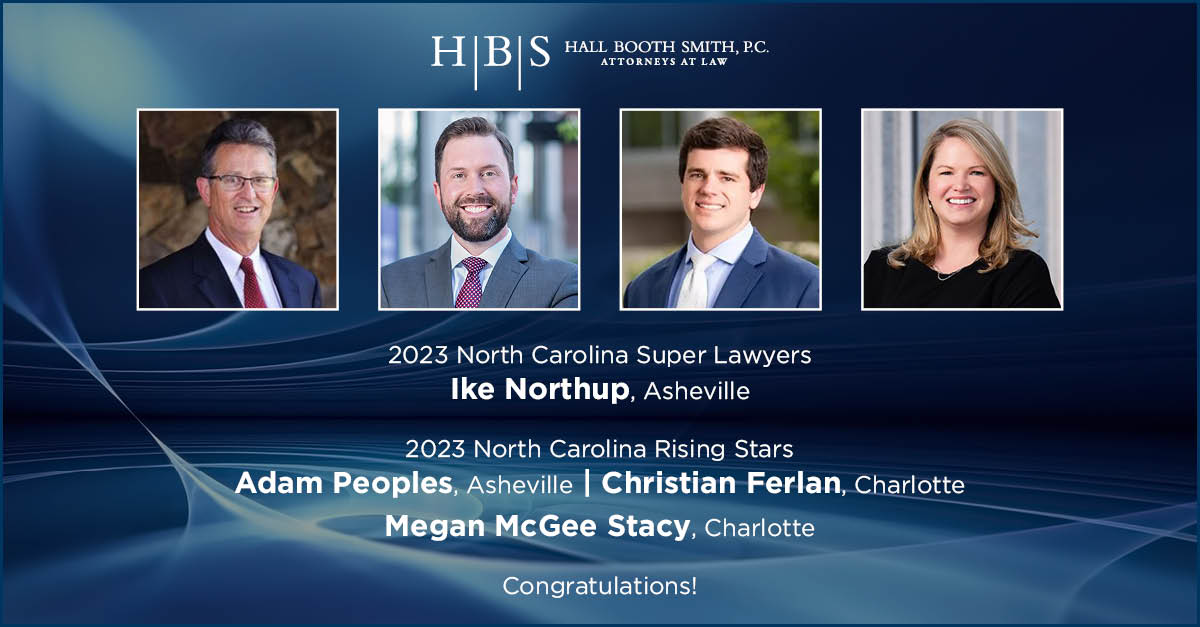 4 North Carolina Attorneys Recognized on 2023 Super Lawyers Lists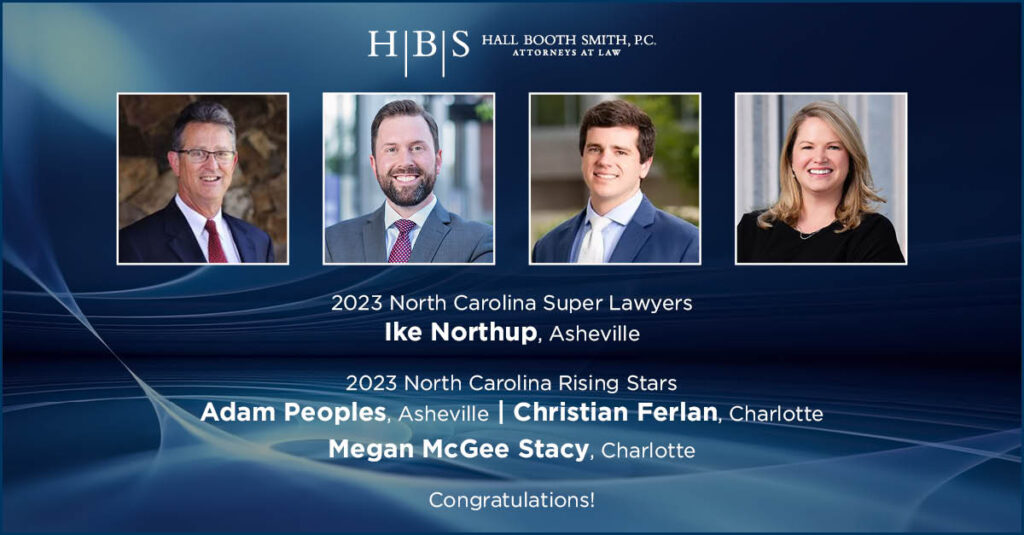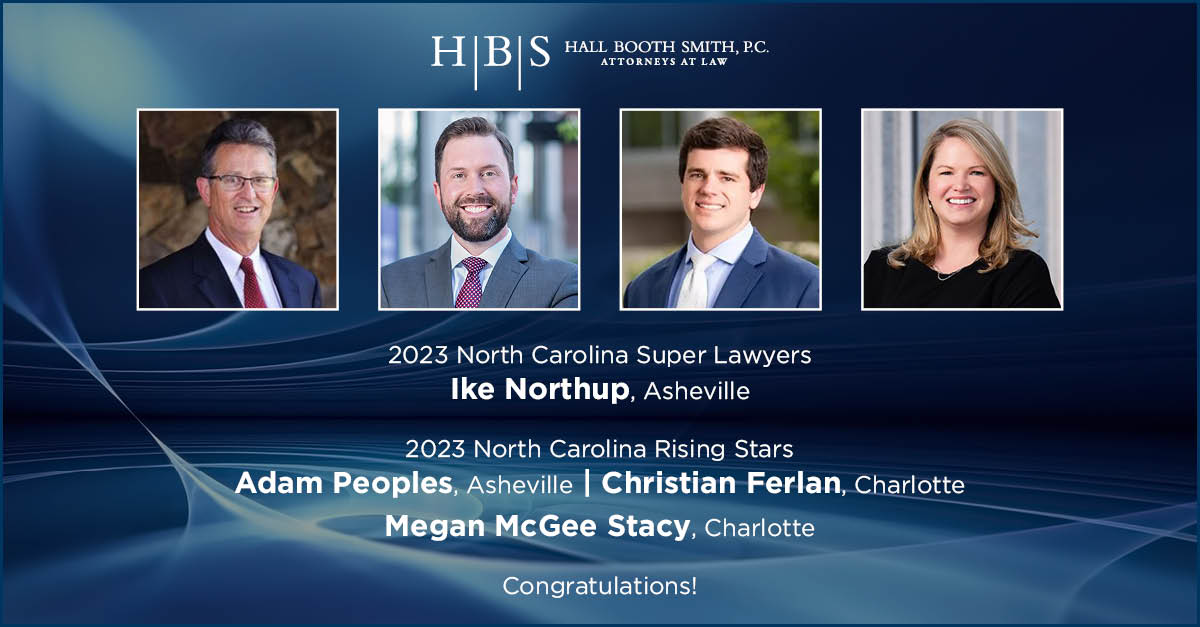 NORTH CAROLINA – – In the 2023 edition of the magazine, the law firm of Hall Booth Smith, P.C. (HBS) has been recognized for its outstanding legal work as four of its attorneys have been named on the lists of Super Lawyers and Rising Stars. Isaac Northup has been selected to the Super Lawyers list and Adam Peoples, Christian Ferlan, and Megan McGee Stacy have been selected to the Rising Stars list.
Ike Northup
Asheville Partner Isaac "Ike" Northup was recognized as a 2023 North Carolina Super Lawyer for his exceptional work in medical malpractice defense. Over the past 39 years, Ike has concentrated his area of practice in the field of medical malpractice defense litigation involving catastrophic and birth injuries and complex medical matters.
He has tried in excess of 75 medical malpractice trials to jury verdict. He also has tried multiple other cases involving will caveats, theft of trade secrets, arson, fraudulent lending, and a host of automobile and general liability cases. Ike is routinely consulted by health care providers concerning licensing boards issues, privilege issues, and risk management.
Adam Peoples
Asheville Partner Adam Peoples was recognized as a 2023 North Carolina Rising Star for his work in civil litigation defense. Adam primarily defends doctors, lawyers, accountants, and engineers in negligence and ethics matters. His practice also includes defending claims regarding general liability, governmental liability, civil rights, products liability, and transportation.
Ranked AV Preeminent® by Martindale-Hubbell, Adam has enjoyed a great deal of success in the courtroom.  He has litigated hundreds of cases, including more than 900 hours of jury trial time, defending cases involving seven and eight-figure demands.
Christian Ferlan
Charlotte Associate Christian Ferlan was newly recognized as a 2023 North Carolina Rising Star for his work in state, local, and municipal matters. Christian focuses his practice on the defense of law enforcement agencies as well as general liability, long-term care, and workers' compensation. He has gained valuable experience defending local governments, law enforcement officers, and fire departments in a wide variety of cases under federal and state law.
Christian has defended cases implicating the First and Fourth Amendments, as well as the North Carolina Constitution, including federal and state appeals. He has also advised local governments on ordinance drafting and legislation. In addition to working with local governments, Christian has represented individuals and long-term care facilities in a wide range of professional negligence and general liability claims in state court and arbitration.
Megan McGee Stacy
Charlotte Of Counsel Megan Stacy was recognized as a 2023 North Carolina Rising Star for her work in professional liability defense. Megan, licensed in both North and South Carolina, has experience with all stages of litigation in both State and Federal Courts. Megan focuses her practice on construction, general liability, business litigation, premises liability, products liability, and professional malpractice and ethics.
She has gained experience in representing clients in premises liability cases and medical providers, attorneys, and design professionals in professional liability cases. She has also represented companies of all sizes in litigation involving claims ranging from breach of contract and tortious interference to fraud and veil piercing.
About Super Lawyers
Super Lawyers, a Thomson Reuters business, is a rating service of outstanding lawyers from more than 70 practice areas who have attained a high degree of peer recognition and professional achievement. The annual selections are made using a patented-multiphase process that includes a statewide survey of lawyers, an independent research evaluation of candidates and peer reviews by practice area. The result is a credible, comprehensive and diverse listing of exceptional attorneys.
The full list of this year's recipients can be found on the Super Lawyers website.
About Hall Booth Smith
Established in 1989, Hall Booth Smith, P.C. (HBS) is a full-service law firm with six regional offices strategically located throughout Georgia, as well as offices in Birmingham, Alabama; Charleston, South Carolina; Asheville and Charlotte, North Carolina; Jacksonville, Miami, Tallahassee, Tampa, St. Petersburg and West Palm Beach, Florida; Nashville and Memphis, Tennessee; Little Rock and Rogers, Arkansas; Oklahoma City, Oklahoma; Denver, Colorado; Paramus, Red Bank and Saddle Brook, New Jersey; New York City and White Plains, New York; and Missoula, Montana. Experienced across a wide range of legal disciplines, HBS attorneys pride themselves on providing knowledgeable, proactive, client-specific counsel to individuals, domestic and international corporations, state and federal agencies, and nonprofit organizations. The firm's promise: "Serving to Achieve Excellence." To learn more, please visit: www.hallboothsmith.com or connect with us on LinkedIn.