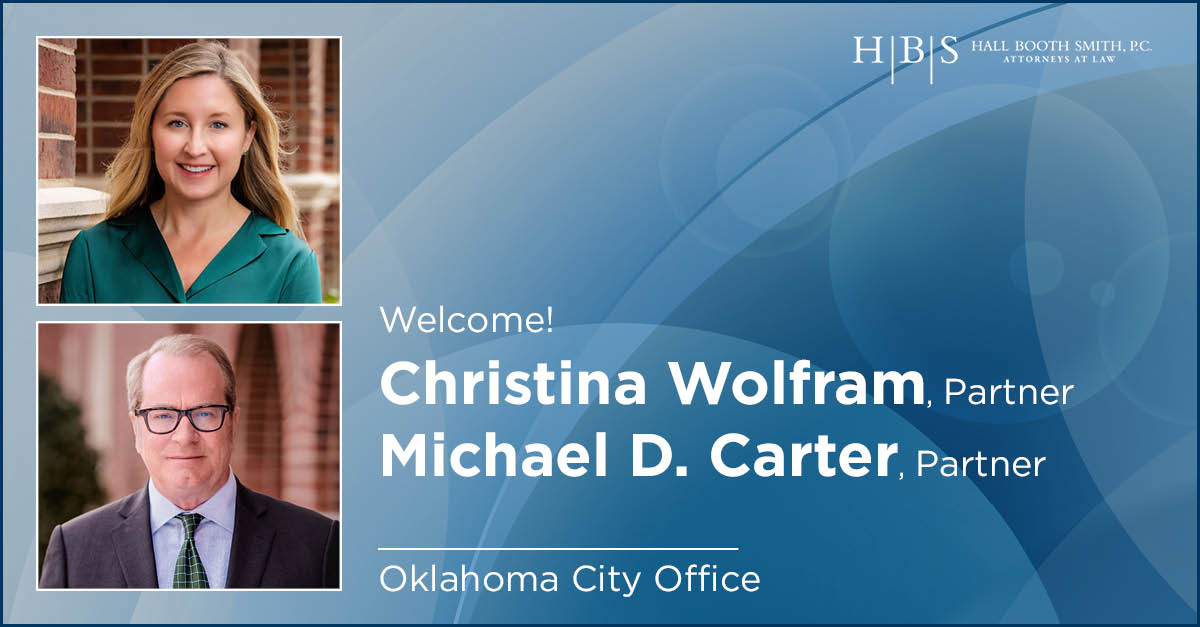 Oklahoma City Adds Partners Christina Wolfram & Michael D. Carter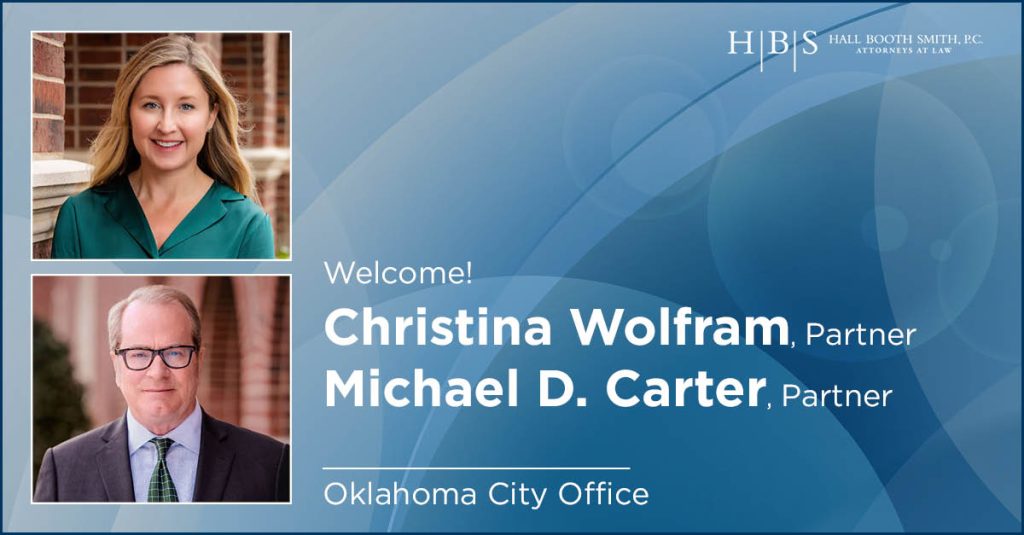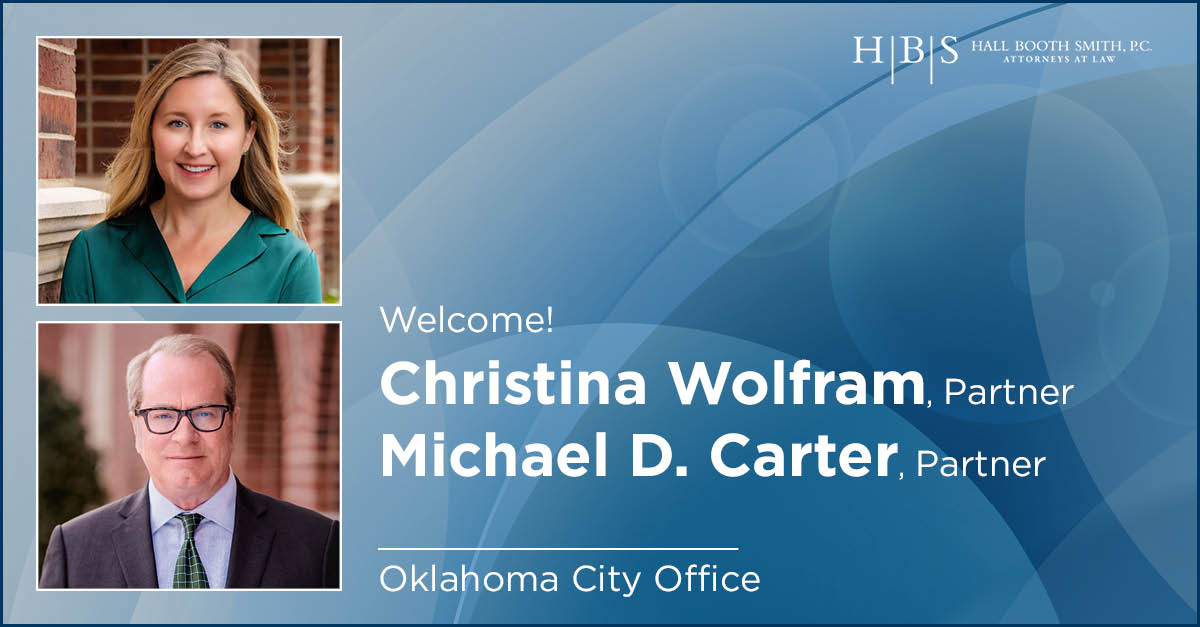 OKLAHOMA CITY, OKLAHOMA – – Hall Booth Smith, P.C. (HBS) is pleased to welcome Partners Christina Wolfram and Michael D. Carter to its office in Oklahoma City, Oklahoma.
Christina Wolfram
Partner Christina Wolfram focuses her practice on medical malpractice and other personal injury matters.
She represents health care institutions, private practices, physicians, nurses, and medical practice staff members in complex medical malpractice actions. She works to develop strong professional relationships with her clients, as she understands the stress clients endure during litigation, and she strives to keep her clients informed of new developments while making them as active of a participant in their cases as they would like to be.
Christina began her career as an Assistant District Attorney in Tulsa County, Oklahoma, as a felony prosecutor. She handled many types of serious crimes but her focus was on crimes against children including physical abuse, sexual abuse, and child homicide. Christina earned a Juris Doctor from the University of Oklahoma Law School and holds a Bachelor of Arts in Political Science from Washington University in St. Louis.
Michael D. Carter
Partner Michael Carter focuses his practice on asbestos, talc, and silica defense; labor and employment; products liability; and workers' compensation matters.
Michael has defended multi-party asbestos, talc, respirable dust, silica, and benzene exposure cases in multiple jurisdictions across the United States, representing equipment manufacturers, distributors, contractors, premises owners, manufacturers of industrial and cosmetic talc products, manufacturers of joint compound, and manufacturers of fire brick, felt, gaskets, and kiln-entry suits. He has substantial experience serving clients as National Coordinating Counsel in nationwide talc litigation.
In addition, Michael has many years' experience in the field of workers' compensation and serves as chair of the Oklahoma Advisory Council on Workers' Compensation. He works to counsel clients in all aspects of employment including the development of employment policies, human resources outsourcing, employer immigration compliance, and issues involving professional employer organizations. Michael earned his Juris Doctor from the University of Oklahoma College of Law and holds a Bachelor of Arts in Letters from the University of Oklahoma.
We are excited to welcome Christina and Michael with their breadth of experience, as they are able to provide additional services to our current clients and bring new clients to the Oklahoma City office, said Michael Heron, a Partner who oversees the Oklahoma City office.
About Hall Booth Smith
Established in 1989, Hall Booth Smith, P.C. (HBS) is a full-service law firm with six regional offices strategically located throughout Georgia, as well as offices in Birmingham, Alabama; Charleston, South Carolina; Asheville and Charlotte, North Carolina; Jacksonville, Miami, Tallahassee, Tampa, St. Petersburg and West Palm Beach, Florida; Nashville and Memphis, Tennessee; Little Rock and Rogers, Arkansas; Oklahoma City, Oklahoma; Denver, Colorado; Paramus, Red Bank and Saddle Brook, New Jersey; New York City and White Plains, New York; and Missoula, Montana. Experienced across a wide range of legal disciplines, HBS attorneys pride themselves on providing knowledgeable, proactive, client-specific counsel to individuals, domestic and international corporations, state and federal agencies, and nonprofit organizations. The firm's promise: "Serving to Achieve Excellence." To learn more, please visit: www.hallboothsmith.com or connect with us on LinkedIn.