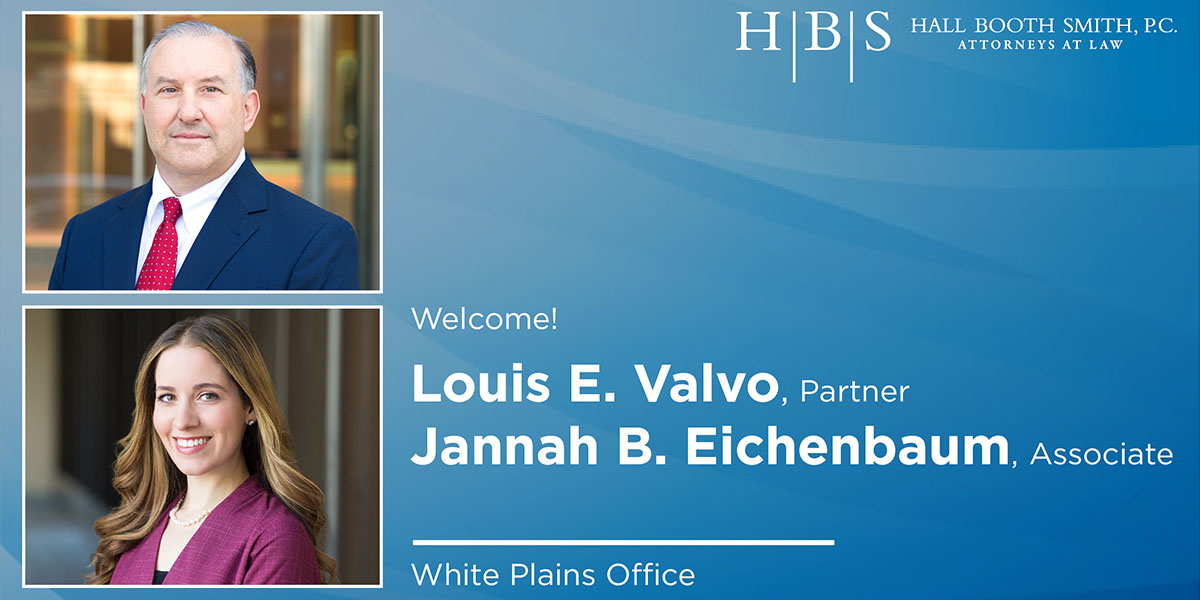 HBS Adds Partner Louis E. Valvo and Associate Jannah B. Eichenbaum to White Plains Office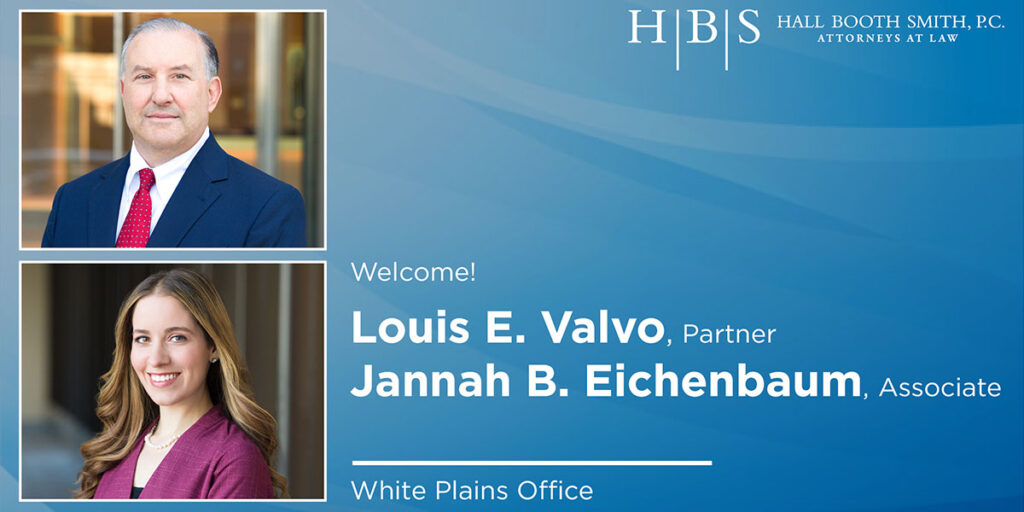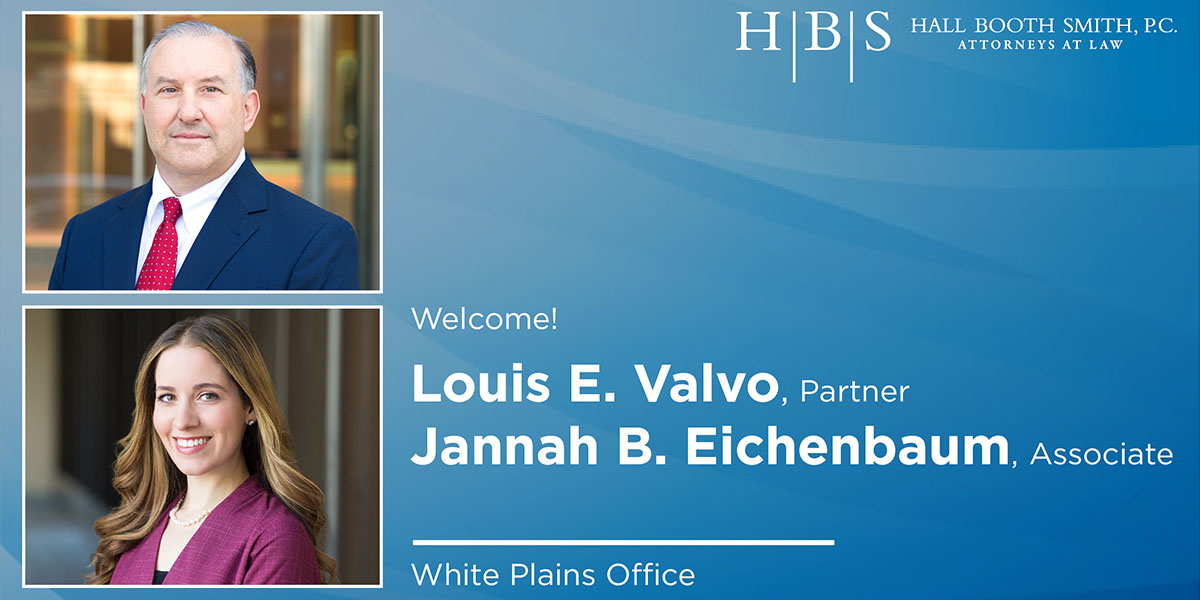 WHITE PLAINS, NEW YORK – August 29, 2022 – Hall Booth Smith, P.C. (HBS) is delighted to welcome Louis E. Valvo as a Partner and Jannah B. Eichenbaum as an Associate to its growing office in White Plains, New York.
Louis is a skilled trial attorney with more than 35 years of experience in civil and criminal litigation. He focuses his practice on personal injury, commercial litigation, medical malpractice, labor law, employment discrimination, and premise liability cases. Louis joined HBS after spending the last 14 years as a partner in a New York law office where he was an accomplished trial attorney with a successful record in federal, state, and appellate courts.
Louis began his career as an Assistant DA under Robert M. Morgenthau in the Manhattan District Attorney's Office. He shifted to private practice in 1994, where he was responsible for civil litigation, including medical malpractice, personal injury, products liability, and white-collar criminal defense in federal and state courts. Louis then spent twelve years as Chief Assistant District Attorney at the Rockland County District Attorney's Office.
His cases have been profiled in various books and movies, and he has served as a legal analyst on television shows such as Court TV and Hollywood Justice. Additionally, Louis is a faculty member for the National District Attorneys Association, American Prosecutors Research Institute, and the International Association of Chiefs of Police.
Louis earned his J.D. degree from New York Law School, studied at Oxford University in Oxford, England, and received a B.S. in Environmental Science from Long Island University-Southampton College.
Jannah joins HBS as an Associate in our White Plains office where she focuses her practice on the defense of medical malpractice and general liability matters. Prior to joining HBS, Jannah was an Associate at a local firm where she focused on matrimonial and family law. During law school, she was a law clerk at a boutique labor and employment firm.
Jannah earned a J.D. from the Benjamin N. Cardozo School of Law at Yeshiva University, where she was Staff Editor of the Cardozo School of Law Arts and Entertainment Law Journal and a Semi Finalist in the Paulsen Moot Court Competition. She also holds a B.A., magna cum laude, in Political Science and Psychology from Yeshiva University, where she was the recipient of the Moshe Arens Scholarship for Excellence in Political Science. As an undergraduate, Jannah was a member of the women's tennis team and received the Yeshiva University Female Student Athlete of the Year award during her senior year.
"We are excited to welcome Louis and Jannah to the HBS family. They will be invaluable additions to our office as we expand to meet the needs of our clients," said Todd Gilbert, Partner at Hall Booth Smith's White Plains office.
About Hall Booth Smith
Established in 1989, Hall Booth Smith, P.C. (HBS) is a full-service law firm with six regional offices strategically located throughout Georgia, as well as offices in Birmingham, Alabama; Charleston, South Carolina; Asheville and Charlotte, North Carolina; Jacksonville, Miami, Tallahassee, Tampa, St. Petersburg and West Palm Beach, Florida; Nashville and Memphis, Tennessee; Little Rock and Rogers, Arkansas; Oklahoma City, Oklahoma; Denver, Colorado; Saddle Brook and Woodland Park, New Jersey; and New York City. Experienced across a wide range of legal disciplines, HBS attorneys pride themselves on providing knowledgeable, proactive, client-specific counsel to individuals, domestic and international corporations, state and federal agencies, and nonprofit organizations. The firm's promise: "Serving to Achieve Excellence." To learn more, please visit: www.hallboothsmith.com or connect with us on LinkedIn.