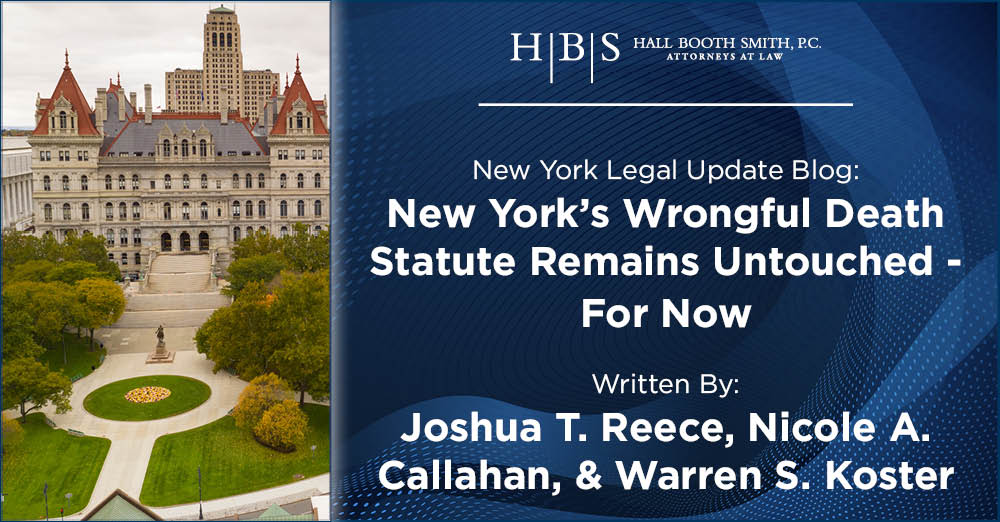 New York's Wrongful Death Statute Remains Untouched – For Now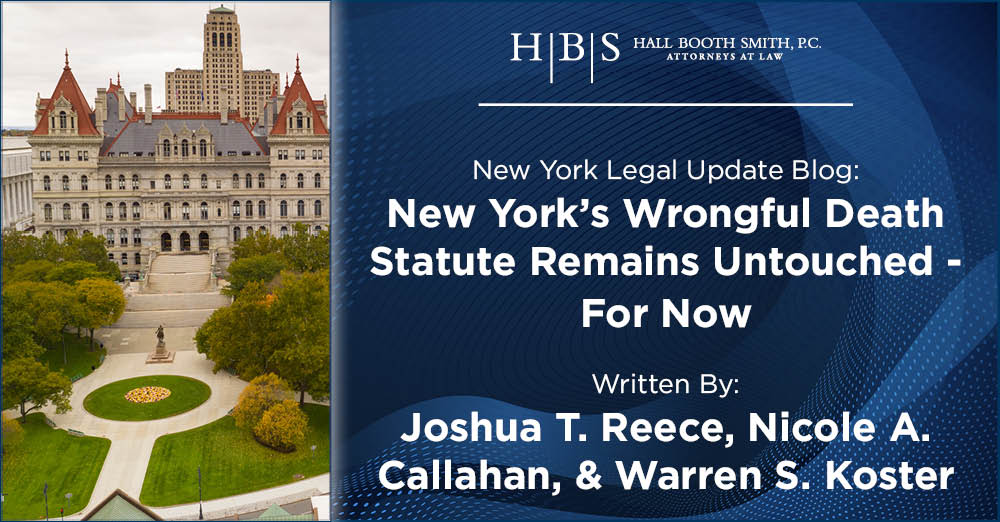 Written by: Joshua T. Reece, Nicole A. Callahan, & Warren S. Koster
In the waning hours of – the deadline to sign New York's Grieving Families Act1 into law – Governor Kathy Hochul instead vetoed the legislation, which had passed both houses of the legislature with significant bipartisan support. The Governor had previewed her reservations that morning in an op-ed article, which cited concerns that the legislation could harm a recovering health care system and small businesses in the form of rising insurance premiums.2
Grieving Families Act Overview
The Grieving Families Act ("the act") sought to amend New York's wrongful death statute3 by lengthening the statute of limitations, allowing recovery for non-economic damages, and expanding the class of potential beneficiaries. Specifically, the legislation would have extended the statute of limitations from two to three-and-a-half years after the decedent's death.4
Additionally, instead of permitting only pecuniary damages (including funeral expenses, other estate expenses, and loss of services/support), beneficiaries could claim compensation for grief[,] anguish[,]… and any disorder caused by such grief or anguish[,] as well as loss of companionship and loss of nurture, guidance, counsel, advice, training, and education.5 Finally, the Act would have expanded the class of potential beneficiaries from distributees or parents to include surviving close family members.
The fact finder would have determined who qualified as a close family member by examining the specific circumstances relating to the person's relationship with the decedent.6 Both pending and subsequently commenced actions would have been subject to the Act's sweeping changes.
Act Introduction & Criticism
The New York legislature repeatedly considered the Grieving Families Act before its passage last year. Assemblywoman Helene Weinstein (D – Dist. 41), chair of the Ways and Means Committee and previously Of-Counsel to a Brooklyn-based personal injury firm,7 introduced the bill at least as early as the 1999-2000 session. After it died in the Judiciary Committee, Assemblywoman Weinstein reintroduced the bill in nearly every session, where it continued to die in committee until its passage in 2022. Sponsors in the Senate included John DeFrancisco (R – Dist. 50), James Lack (R – Dist. 2), and most recently, Chair of the Judiciary Committee Brad Hoylman-Sigal (D – Dist. 27).8
Following the Act's introduction during the 2021-2022 Legislative Session, the New York health care and business sectors criticized the legislation. Milliman, a risk management firm, studied the cost effect of the bill for property-casualty insurers, policyholders, and self-insureds, focusing specifically on medical liability, commercial automobile liability, and general liability lines.9
The firm concluded the Act would cause an overall 12.6% increase – or $2.09 billion – to the annual loss and loss adjustment expenses in New York. As to self-insured entities, the firm estimated annual liability losses could increase by 15.3% – or $1.72 billion. Premiums were forecast to increase by 11.1% ($2.14 billion).10 The study did not account for extending the statute of limitations or expanding the class of potential plaintiffs, which the firm said would have further increased their estimates.
Recent Legislative Backing
The Grieving Families Act passed both houses of the Legislature on , the same day it received committee approval; notably, only six Senators and two members of the Assembly voted against it.11 On , the bill was delivered to Governor Hochul for signature. According to the Governor, she proposed amendments to the legislation several days later that would have exempted medical malpractice claims.
After a month, no consensus was reached, and the Governor published her op-ed, which – in addition to discussing concerns of rising premiums – also noted New York's "unique" constitutional prohibition against limits on damages.12
Looking Ahead
Given the repeated attempts of members of both houses to pass the Act, we can expect it to reappear on the Legislature's agenda – either with or without Governor Hochul's amendments. Of note, while several other states have statutes that allow for monetary compensation for non-pecuniary damages, including grief and anguish, generally speaking, these statutes contain more narrow language than the New York Act, particularly with regard to the class of potential beneficiaries.
Footnotes
(2) Kathy Kochul, "Let's Agree on Helping Grieving Families Before Today's Midnight Deadline"
(4) Compare S.74A, § 1 with EPTL § 5-4.1(1). The Act also would have extended the statute of limitations for claims pertaining to death resulting from the September 11, 2001 attacks by two years to four-and-a-half years. Id.
(5) Compare S.74A, § 2 with EPTL § 5-4.3(a).
(6) Compare S.74A, § 3 with EPTL § 5-4.4(a).
(7) Weinstein, Chase, Messinger & Peters, P.C.
(8) The New York State Senate, Senate Bill S74A
(9) Derek Jones, Jason Kurtz, et al; "Review of New York Bills S.74-A/A. 6770: Proposed Expansion of New York's Wrongful Death Act"
(10) The analysis divided premium increases into the three lines studied: medical liability premiums by 39.5% ($602 million), automobile liability by 6% ($500 million), and general liability by 10.9% ($1.02 billion).