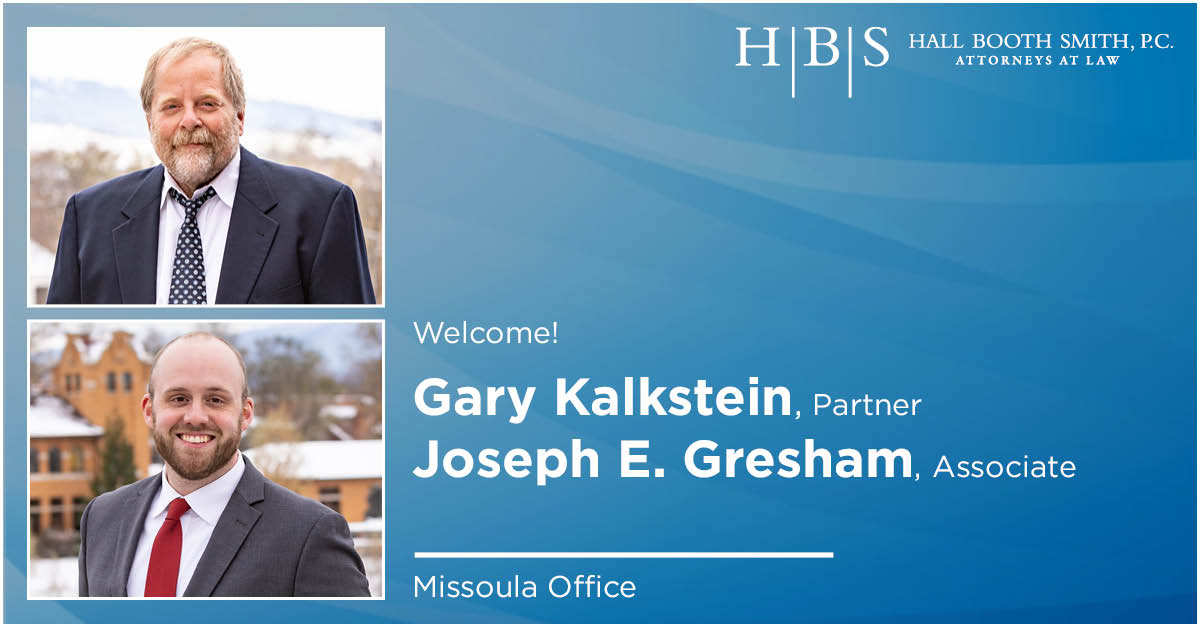 HBS Missoula, Montana, Adds Kalkstein & Gresham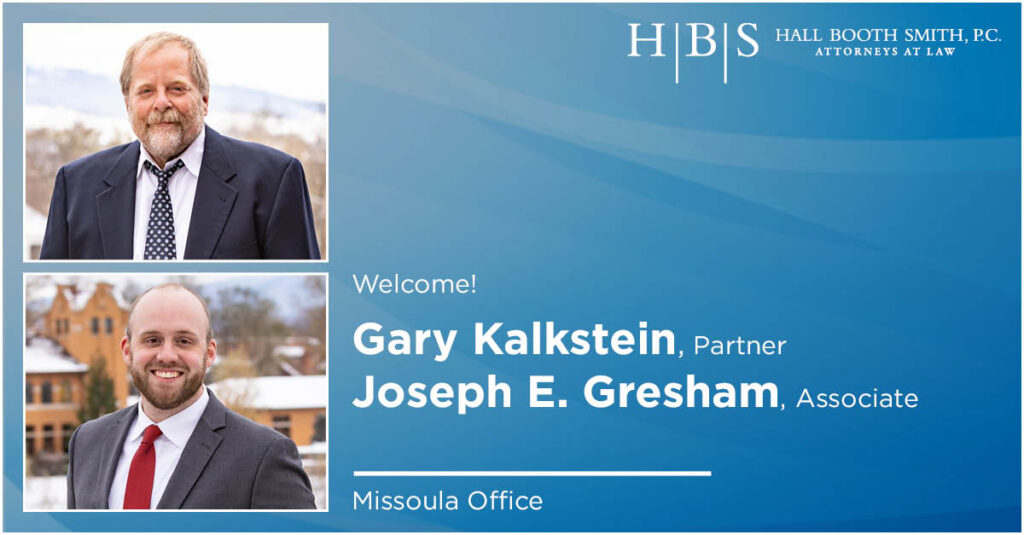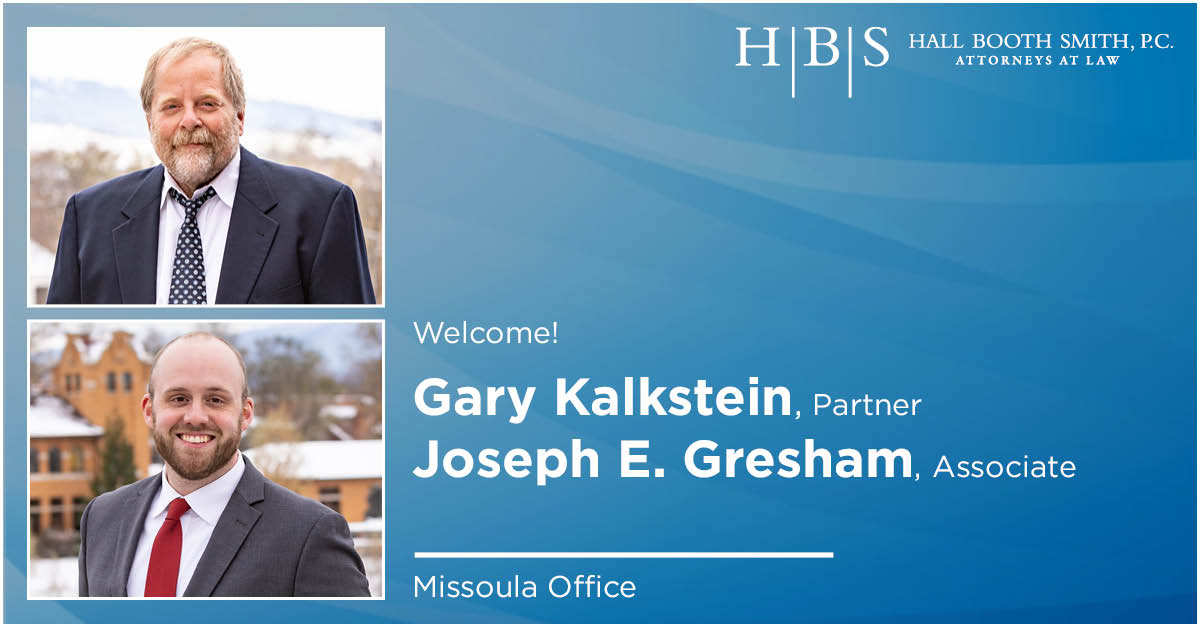 MISSOULA, MONTANA – – Hall Booth Smith, P.C. (HBS) welcomes seasoned attorneys Gary Kalkstein and Joseph Gresham to its office in Missoula, Montana, as the firm expands its practice to meet the needs of clients in the Rocky Mountain region.
Gary Kalkstein
Gary Kalkstein joins the firm as a Partner and has more than 35 years of legal experience in state and federal courts. He defends hospitals, clinics, physician practices, doctors, nurses, physician assistants, professional counselors, and other health care professionals in a wide range of litigation such as medical malpractice, traumatic injury, misdiagnosis, and negligence.
He also assists clients with professional licensing and credentialing matters and often appears before the Montana Medical Legal Panel and other oversight and regulatory groups. He is frequently invited to speak about liability and risk management issues at educational seminars for physicians, dentists, insurance company representatives, and attorneys.
Before joining HBS, Kalkstein was Founding Partner of Kalkstein Law Firm, P.C. in Missoula, which specialized in medical malpractice defense and other health care litigation throughout the state of Montana. He earned a J.D. from the University of Montana School of Law.
Joseph E. Gresham
Joseph E. Gresham joins HBS as an Associate, and he focuses his practice on medical malpractice defense, business transactions, construction, corporate and partnership, general liability, real estate, and appellate matters. Before joining HBS, he was a judicial law clerk for the Honorable Sam E. Haddon of the United States District Court for the District of Montana.
Earlier in his career, Gresham worked for his family's construction and land surveying firm. He earned a joint J.D. and M.B.A. from the University of Montana and was Co-Editor-in-Chief of the Montana Law Review Gresham also holds a B.A. in History from the University of Georgia and is an Appalachian Trail 2000-Miler.
Closing
We are excited to welcome Gary Kalkstein and Joseph Gresham to our Missoula office as we bring more expertise in medical malpractice and health care litigation defense to meet the needs of clients throughout the state of Montana, said Elizabeth Hausbeck, Managing Partner of the Missoula office.
HBS's Montana office opened earlier this year and is located at 101 East Front Street, Suite 402, Missoula, MT 59802.
The Missoula office positions HBS for further strategic expansion in the western half of the United States. Hall Booth Smith has doubled in size in the past five years and now has more than 300 attorneys and 27 offices in 12 states, including its headquarters office in Atlanta.
About Hall Booth Smith
Established in 1989, Hall Booth Smith, P.C. (HBS) is a full-service law firm with six regional offices strategically located throughout Georgia, as well as offices in Birmingham, Alabama; Charleston, South Carolina; Asheville and Charlotte, North Carolina; Jacksonville, Miami, Tallahassee, Tampa, St. Petersburg and West Palm Beach, Florida; Nashville and Memphis, Tennessee; Little Rock and Rogers, Arkansas; Oklahoma City, Oklahoma; Denver, Colorado; Missoula, Montana; Paramus, Red Bank and Saddlebrook, New Jersey; and New York and White Plains, New York. Experienced across a wide range of legal disciplines, HBS attorneys pride themselves on providing knowledgeable, proactive, client-specific counsel to individuals, domestic and international corporations, state and federal agencies, and nonprofit organizations. The firm's promise: "Serving to Achieve Excellence." To learn more, please visit: www.hallboothsmith.com or connect with us on LinkedIn.