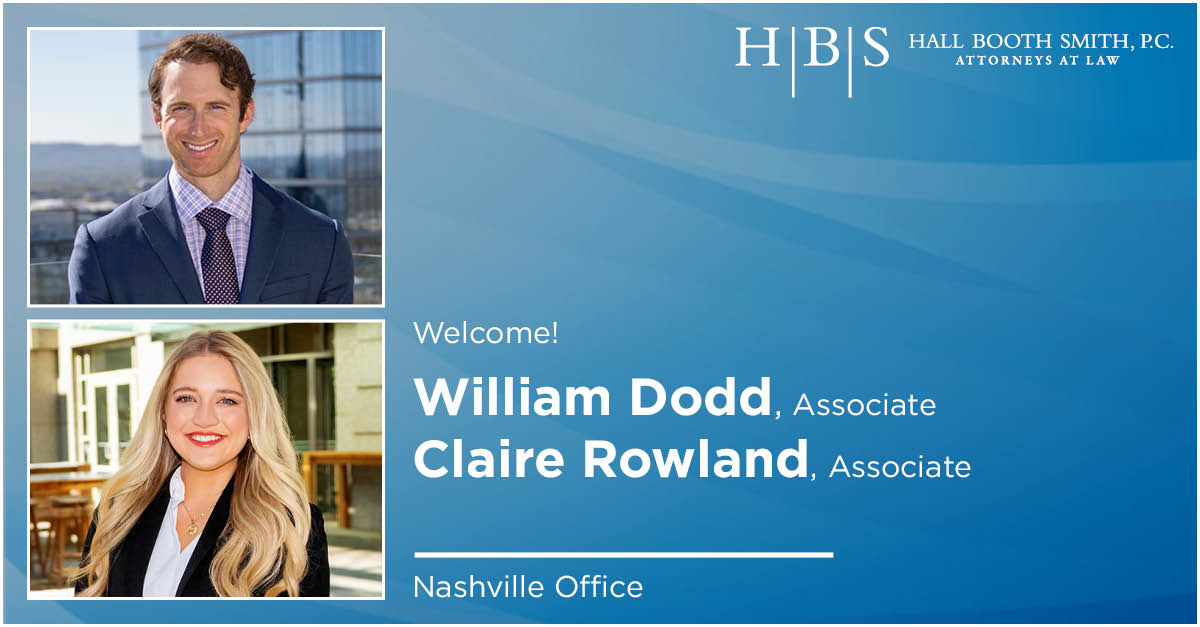 HBS Nashville Adds Associates William Dodd & Claire Rowland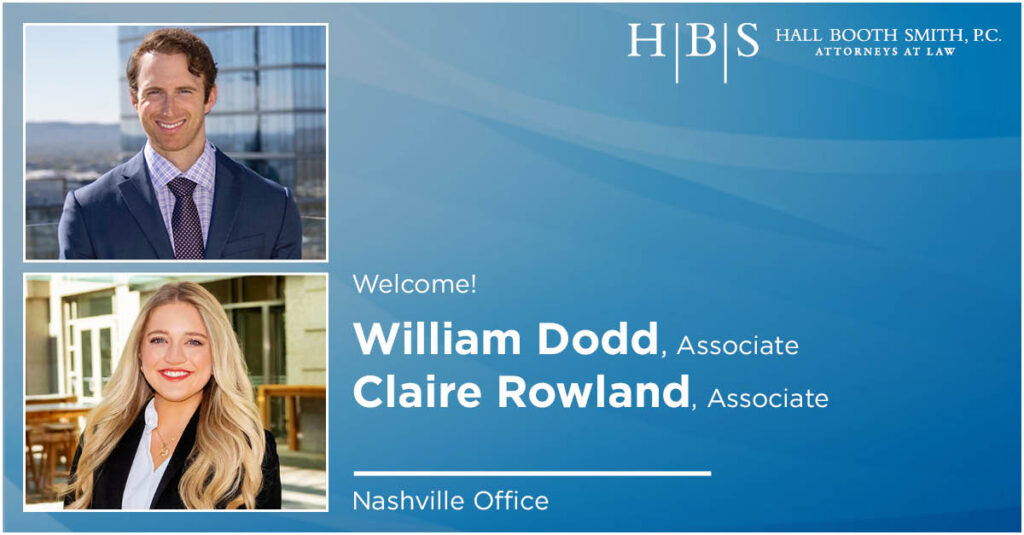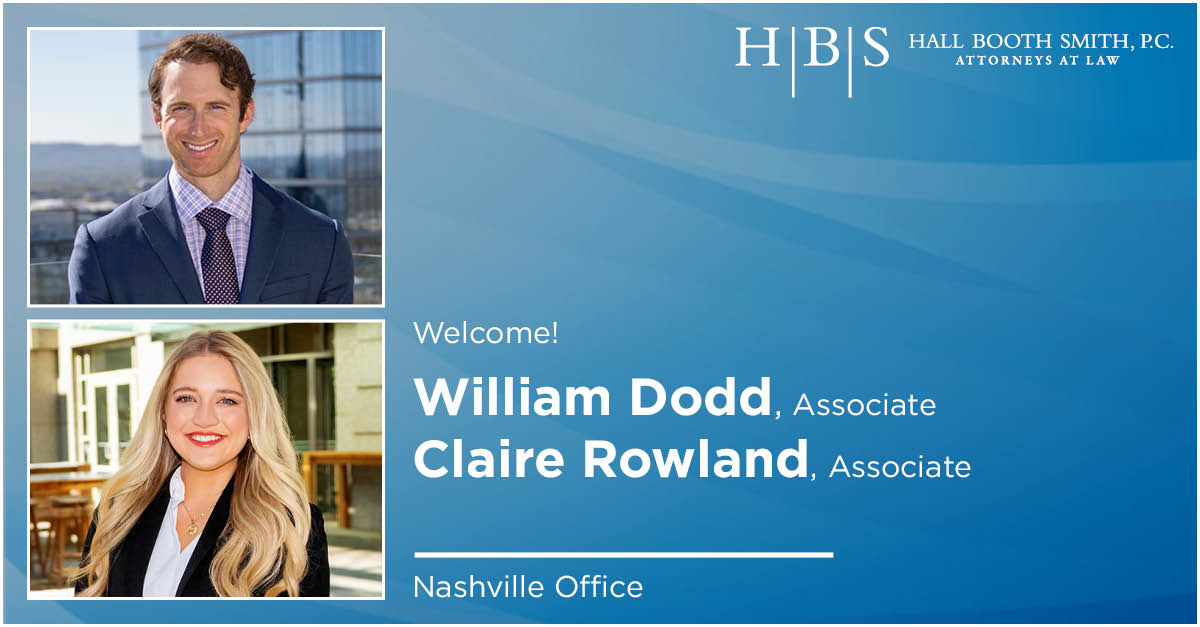 NASHVILLE, TENNESSEE. – October 26, 2022 – Hall Booth Smith, P.C. is pleased to welcome William Dodd and Claire Rowland as Associates to its office in Nashville, Tennessee.
William Dodd
William focuses his practice on business litigation, business transactions, corporate and partnership, general liability, premises liability, transportation, and workers' compensation matters. Prior to joining HBS, William was an Associate at a firm outside of Nashville where he focused primarily on business transactions, commercial litigation, and domestic relations and also worked at a boutique business transactional firm in Nashville. Additionally, William was a Judicial Law Clerk to the Honorable James G. Martin III and the Honorable Deanna Bell Johnson of Tennessee's 21st Judicial District.
William earned a J.D. from Belmont University College of Law, where he was an Associate Editor of the Health Law Journal. He also holds a B.A., cum laude, in English Literature with a double minor in Visual Art and Religion from Belmont University.
Claire Rowland
Claire focuses her practice on intellectual property, medical malpractice, general liability, and transportation matters. Prior to joining HBS, she clerked for the Honorable Magistrate Judge Jon A. York at the United States District Court for the Western District of Tennessee.
Claire earned a J.D. from the University of Memphis Cecil C. Humphreys School of Law, where she graduated with a health law certificate and received a CALI Award in Trial Advocacy. She also earned a B.A. in English from Arkansas State University.
"We are excited to welcome William and Claire to the HBS family and are thrilled to have attorneys with such great experience to help serve our clients' needs," said Karl Braun, a Partner who oversees the Nashville office.
About Hall Booth Smith
Established in 1989, Hall Booth Smith, P.C. (HBS) is a full-service law firm with six regional offices strategically located throughout Georgia, as well as offices in Birmingham, Alabama; Charleston, South Carolina; Asheville and Charlotte, North Carolina; Jacksonville, Miami, Tallahassee, Tampa, St. Petersburg and West Palm Beach, Florida; Nashville and Memphis, Tennessee; Little Rock and Rogers, Arkansas; Oklahoma City, Oklahoma; Denver, Colorado; Paramus, Red Bank and Saddle Brook, New Jersey; and New York City and White Plains, New York. Experienced across a wide range of legal disciplines, HBS attorneys pride themselves on providing knowledgeable, proactive, client-specific counsel to individuals, domestic, and international corporations, state and federal agencies, and nonprofit organizations. The firm's promise: "Serving to Achieve Excellence." To learn more, please visit: www.hallboothsmith.com or connect with us on LinkedIn.