25 Jul

Navigating the "New" NAFTA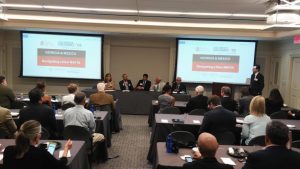 HBS international business attorney John Parkerson attended an informative program this week, organized by Global Atlanta and the Government of Mexico to highlight "Georgia and Mexico: Navigating the New NAFTA."  By "New NAFTA," one refers to the U.S.-Mexico-Canada agreement (USMCA) that President Trump signed last year with Mexico and Canada to replace the North American Free Trade Agreement (NAFTA).  Mexico already has ratified the new agreement, but it faces uncertain ratification in the U.S. Congress.
Global Atlanta's Trevor Williams moderated a panel discussion by several NAFTA experts including, among them, Consul General of Mexico Javier Diaz de Leon; Commissioner of Agriculture Gary Black; Andres Villegas, President, Georgia Forestry Association; and Tim Samples, Assistant Professor at UGA Terry College of Business.  Mexico's Consul General made a persuasive argument hailing NAFTA's and the USMCA's benefits for U.S. and Georgia-Mexico trade, citing Mexico's #2 position (behind Canada) as leading U.S. trading partner.  He noted that 25% of Georgia's exports go to Mexico, and that Georgia has a trade office in Mexico City.  Across the U.S., supporters and detractors predictably line up roughly along political lines.  But more importantly, they tend to line up along significant economic sectors, often regional, that claim either to benefit or to be harmed by USMCA and that cross political boundaries.  As an example close to home, Georgia's Agriculture Commissioner (fact: agribusiness is Georgia's #1 industry) emphasized that trade agreements like NAFTA have to be "fair" and, at the same time, "fit" the relationship: while NAFTA may benefit some economic sectors, portions of NAFTA in essence allow Mexico unfairly (and anti-competitively) to harm many farmers in Georgia.  Commissioner Black named strawberries, blueberries (citing Alma, GA), tree nuts, fruits and vegetables among Georgia agribusiness sectors harmed by NAFTA; and he noted the damage to Florida's tomato production.  In summary, Black emphasized the need to continue to advance the interests of Georgia producers in those agribusiness areas where NAFTA (or USMCA) is not fair.
It naturally will be interesting to follow how and to what extent this and other trade deal debates influence 2020 elections; but we cannot forget that ratified trade agreements are binding between nations and, as such, represent evolving legal norms that have wide-ranging effects.  Businesses and their legal counsel are encouraged to follow NAFTA's and USMCA's implications.