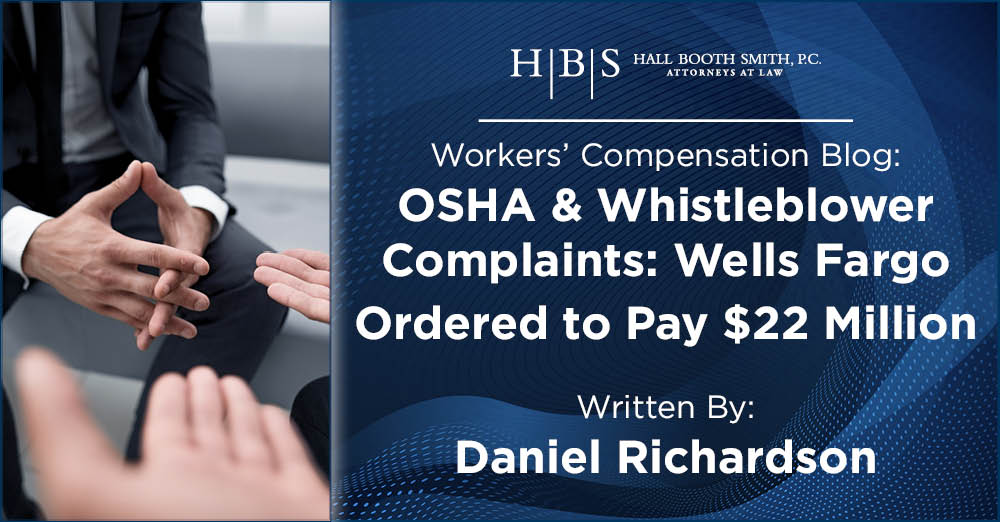 OSHA & Whistleblower Complaints: Wells Fargo Ordered to Pay $22 Million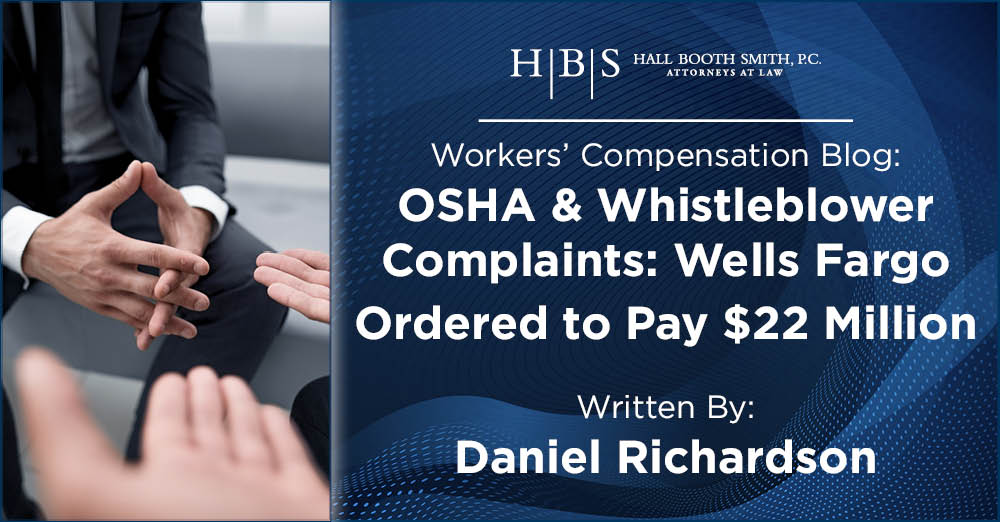 Written by: Daniel Richardson, Esq.
As employers seek to provide a safe workplace, it is imperative that no retaliatory action be taken against employees who choose to exercise their rights under the Occupational Safety and Health (OSH) Act or other statutes designed to protect employees. Doing so can be quite costly. Section 11(c)(1) of the OSH Act provides that no person shall discharge or in any manner discriminate against any employee because such employee has filed any complaints or instituted or caused to be instituted any proceeding under or related to this Act … or because of the exercise by such employee … of any right afforded by this Act.
OSHA Protections
OSHA administers a Whistleblower Protection Program to enforce provisions of its own Act, as well as to enforce similar provisions through more than twenty other statutes designed to protect employees against retaliation, such as the Sarbanes-Oxley Act.
Retaliation can be as straightforward as a firing but can also include many other adverse actions such as a demotion; denial of overtime or promotion; denial of benefits; failure to hire or rehire; intimidation or harassment; making threats; reassignment to a less desirable position; actions to affect an employee's prospects for promotion, such as exclusion from important team meetings; a reduction or change in pay or hours; reporting (or threatening to report) an employee to the police or to immigration; blacklisting; constructive discharge through making working conditions intolerable to the point where the employee quits; isolating, ostracizing, or mocking; and falsely accusing an employee of poor performance.
Section 11(c)(1) protects employees against retaliation after exercising rights "related" to the Act. Filing a complaint about unsafe and unhealthful work conditions is the biggest source of discrimination claims filed under Section 11(c). These can include complaints filed directly to OSHA, but they can also include complaints made to other federal, state, or local agencies. It can even include complaints made just to the employer where no safety complaint is ever filed with OSHA. Under the statute, a protected "employee" has been interpreted to include job applicants and former employees who were employed at the time of the alleged discrimination.
Employer Challenges
One of the trickiest aspects of this for employers is that the employee's engagement in protected activity – such as making a complaint – need not be the sole consideration behind the allegedly retaliatory action. It will be considered a violation of Section 11(c) if the protected activity was merely a substantial reason for the employer's action, or if the allegedly retaliatory action would not have taken place "but for" engaging in protected activity.
We recommend that, as the employer, you document everything well regarding the employee's performance. An employee's termination or sanctioning will likely be upheld if the employer can demonstrate insubordination and destruction of property; unsatisfactory work performance; disruption of the business; a lack of cooperation with the management team; or other valid reasons besides the employee's exercise of the right to make a complaint. Consistent documentation of employee performance is a best practice when it comes to workers' compensation claims as well, where failure to show that a claimant has been terminated for cause may result in wage benefits being required to commence.
Process Considerations
For employees to succeed in establishing a whistleblower claim under OSHA, they need to establish by a preponderance of the evidence that (1) they have engaged in protected activity; (2) they have suffered an adverse action from the employer; and (3) there is a causal link between the protected activity and the adverse employment action.
Once the employee has established a prima facie case based on these elements, the employer will have a chance to offer a rebuttal. This can be done either by proving that the employer had no knowledge of the employee's exercise of rights under Section 11(c), or by proving that the employee received adverse treatment for a valid nondiscriminatory reason, such as those listed above.
Timing is often very important in these types of claims. For instance, a dentist was found to be in violation when he fired his dental assistant just an hour after he was informed by an OSHA inspector that an anonymous whistleblower had made a complaint regarding improper handling of sharp instruments within his office.
Wells Fargo Case
To illustrate how expensive a whistleblower complaint can become, consider what happened to Wells Fargo last September. They were ordered by OSHA to pay more than $22 million to an employee who had initiated and established a whistleblower complaint under the Sarbanes-Oxley Act. Wells Fargo had terminated a senior manager who had voiced concerns to area managers and the corporate ethics line regarding conduct believed to violate relevant financial laws, including wire fraud.
The employee alleged that they had been required to falsify customer information, among other unsavory things. This manager was terminated in 2019, and Wells Fargo unsuccessfully asserted that this was simply part of a restructuring process, but this termination was found to be inconsistent with treatment of other managers removed under the initiative. The evidence demonstrates Wells Fargo took retaliatory action against this senior manager for repeatedly expressing concerns about financial management they believed violated federal laws, said the Assistant Secretary of Labor for OSH. The Sarbanes-Oxley Act protects employees from retaliation in these very circumstances and the Department of Labor will not tolerate employers who violate the law and illegally terminate workers that exercise their rights under the law.
If you find yourself facing a whistleblower complaint under OSHA's Whistleblower Protection Program, feel free to contact me or someone on our team, and we will help you navigate the process of defending against the complaint.