18 Feb

HBS Attorneys Recognized as 2019 Georgia Super Lawyers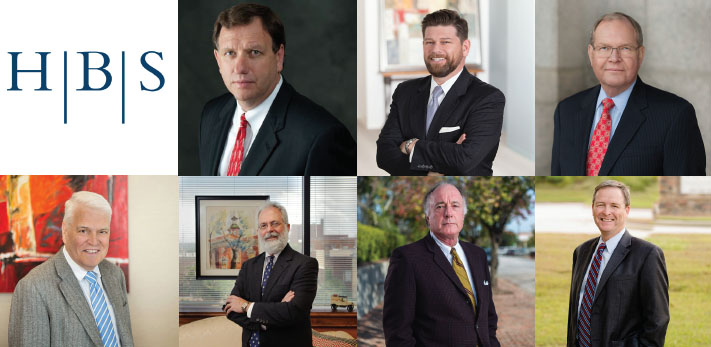 In the 2019 edition of the Georgia Super Lawyers magazine, the law firm of Hall Booth Smith (HBS) will once again be recognized for its outstanding legal work as seven of its attorneys are on the list of Super Lawyers: John E. Hall, Jr., Thomas Mazziotti, Rush S. Smith, Jr. and Terrance Sullivan of the Atlanta office; John M. Sheftall and Robert C. Martin of the Columbus office; and Anthony A. Rowell of the Tifton office. The list seeks to recognize outstanding Georgia attorneys from a variety of practice areas. HBS attorneys have been recognized on this list since the award's inception in 2004.
Mr. Hall was honored for his work in personal injury medical malpractice defense. This is the fifteenth time that Mr. Hall has been recognized as a Super Lawyer in this field. Mr. Hall is one of the founding partners of HBS and specializes in the defense of high exposure cases and also serves as National Counsel for several major insurance carriers throughout the United States. He has represented hospital entities and health care systems directly and has he has tried more than 100 cases to resolution in his legal career.
Atlanta partner Tom Mazziotti's work in health care has been recognized for the ninth year by the Super Lawyers list. He concentrates his practice on product liability, health care, fire cause and origin, and transportation matters. Mr. Mazziotti has a wide range of experience defending products liability matters in state and federal courts, and he has served as national, regional, and local counsel.
Mr. Smith, named partner in the Atlanta office, earned this award with his work in professional liability defense. This is the fourteenth time Mr. Smith has been honored with the Super Lawyer award. Mr. Smith's practice includes the representation of attorneys in legal malpractice claims ranging from securities issues to alleged attorney fraud. He has specialized experience in representing attorneys in cases brought by bankruptcy trustees as they attempt to marshal debtors' assets. Additionally, he represents professionals sued for negligence, fraud and fiduciary breaches in nearly every other area of professional practice. He is currently the chair of the firm's Professional Malpractice and Ethics Practice Group.
Terrance Sullivan, Of Counsel in the Atlanta office, has a career that spans four decades. Mr. Sullivan has tried more than 175 jury trials to verdict and has conducted more than 50 mediations. He has been admitted by pro hac vice into 29 states. He is a member of the American College of Trial Lawyers whose membership is limited to less than one percent of the lawyer population of any state.
Columbus partner Mr. Sheftall, was recognized for his work in estate planning & probate by Super Lawyers. For over thirty years, his area of concentration has been fiduciary law, including estate planning, estate administration, and fiduciary litigation. He is a Fellow of the American College of Trust and Estate Counsel, serves as a Director of SunTrust Bank in Columbus, and is a former Trustee of the St. Francis Hospital Foundation.
Robert C. Martin, partner in the Columbus office, received this award for his work in personal injury medical malpractice defense. His practice is wide ranging involving medical malpractice, products liability and commercial litigation in State and Federal Courts. Mr. Martin has practiced in the area of civil litigation for over thirty-five years.
Georgia Super Lawyers also recognized Mr. Rowell for his work in personal injury medical malpractice defense. Mr. Rowell is a partner of HBS and the managing partner of the firm's Tifton office. This is the seventh time he has been honored with this award. Mr. Rowell has an extensive practice representing a variety of health care providers and managed care organizations.
HBS would like to congratulate the recipients of this year's Super Lawyer awards. These honors recognize the outstanding legal work performed by HBS attorneys and bolster the firm's reputation as one of the leading law firms in the Southeast.
Hall Booth Smith P.C. is a full-service law firm with 15 regional offices in Georgia, Alabama, Florida, North Carolina, South Carolina and Tennessee. Since 1989, HBS has delivered quality legal services with a mission "to ethically and professionally serve our clients by providing the highest quality legal representation in a personally satisfying firm environment." With over 200 attorneys and staff members, HBS provides the highest quality legal services to individuals, governmental bodies and agencies, and businesses of all sizes.