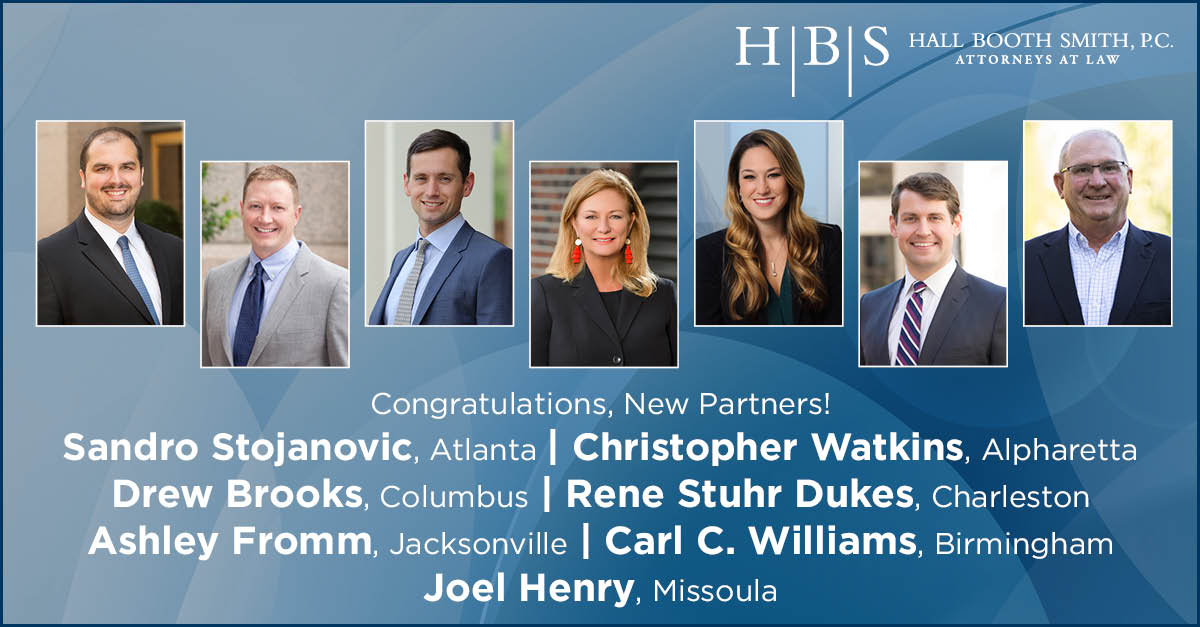 Hall Booth Smith Names Seven New Partners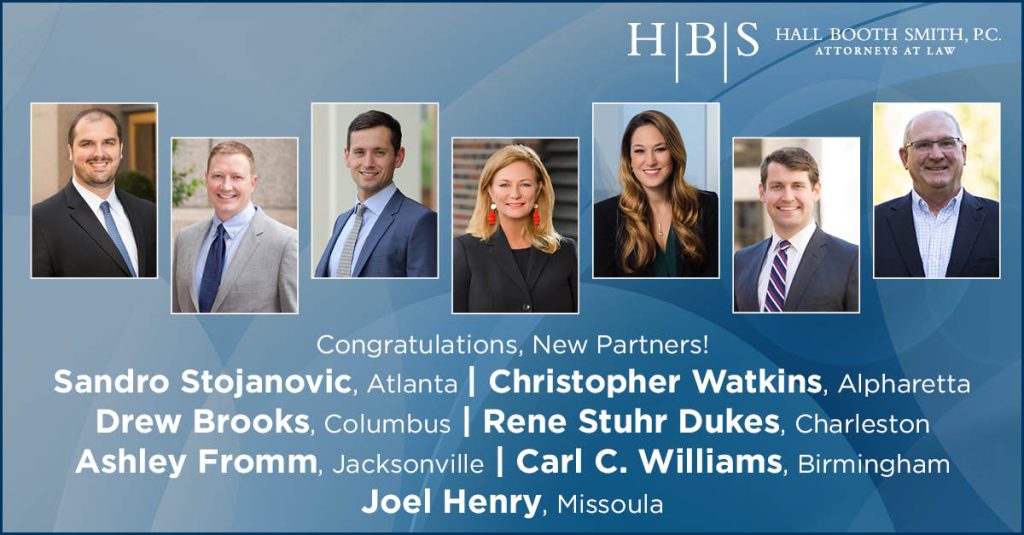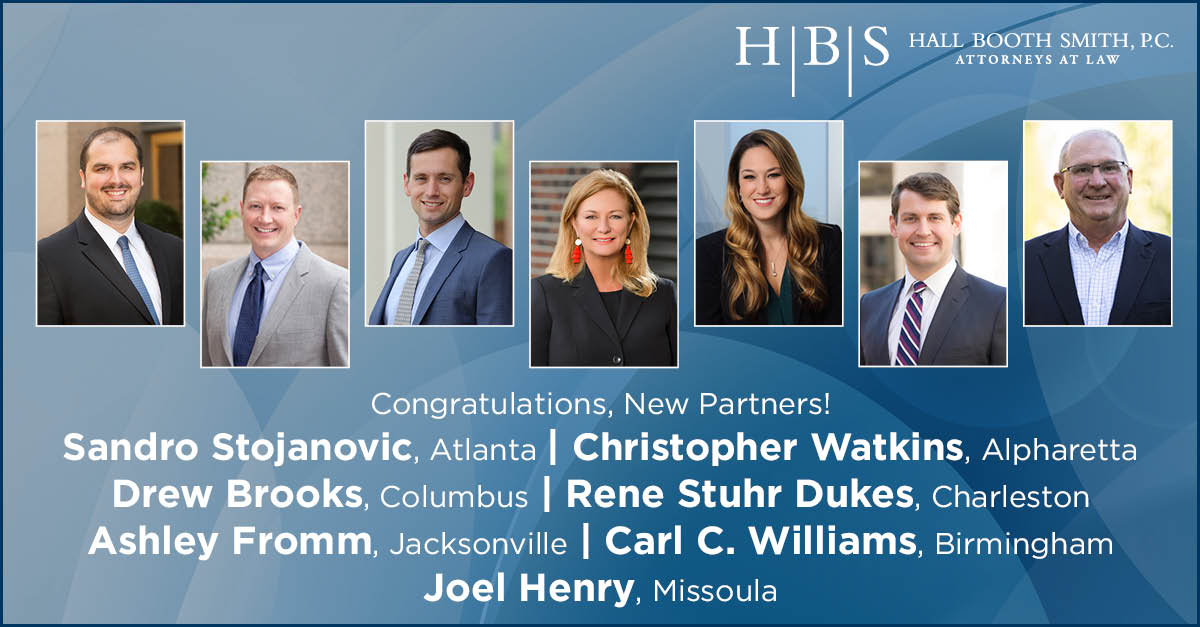 ATLANTA, GEORGIA – – Hall Booth Smith, P.C. (HBS) has named seven new partners as the firm elevates leaders and recognizes their outstanding service to clients.
Joining the firm's partnership ranks are Sandro Stojanovic in Atlanta, Christopher Watkins in Alpharetta, Drew Brooks in Columbus, Rene Stuhr Dukes in Charleston, Ashley Fromm in Jacksonville, Carl Williams in Birmingham, and Joel Henry in Missoula.
Sandro Stojanovic
Sandro Stojanovic's practice focuses on the defense of truck drivers, trucking companies, ambulances, EMTs and Paramedics, commercial vehicle drivers, and insurance companies named under the direct-action statute, both in Federal and State courts. His experience includes litigation relating to claims of dental malpractice, wrongful death, negligent misdiagnosis, birth trauma, and claims of alleged negligent care and treatment of patients. He earned his Juris Doctor from John Marshall Law School and his Bachelor of Arts from the University of Georgia.
Christopher J. Watkins
Christopher J. Watkins has extensive experience as a litigator for construction, insurance coverage, transportation, and general liability matters. He represents contractors, subcontractors, and insurers in a wide range of disputes including construction defect, architectural and engineering errors and omissions, and insurance coverage claims. He also handles many liability evaluations, damage estimates, and coverage assessments for claims. Chris' transportation and general liability experience includes the representation of commercial drivers, homeowners, and small business owners in suits brought against them. He earned his Juris Doctor from the University of Oklahoma College of Law and his Bachelor of Arts from North Georgia College and State University.
Drew Brooks
Drew Brooks primarily concentrates his practice in the area of fiduciary litigation through the representation of beneficiaries, administrators, executors, trustees, and other fiduciaries in various types of contested matters. Drew also practices in the area of medical malpractice through the representation of hospitals, nurses, physicians, and other professional medical providers. He has been named a "Best Lawyers: Ones to Watch" in 2022 and 2023. Drew graduated cum laude with his Juris Doctor from the University of Georgia School of Law and earned his Bachelor of Arts from the University of Georgia.
Rene Stuhr Dukes
Rene Stuhr Dukes represents clients in a wide range of family law matters, including divorce, child custody, parental alienation, grandparent visitation, modification actions, alimony, equitable division, adoption, and other domestic issues. She also represents clients in employment disputes, including cases involving the Americans with Disabilities Act, Age Discrimination in Employment Act, Title VII, Title IX, Fair Labor Standards Act, Equal Employment Opportunity Commission matters, wage disputes, and South Carolina Payment of Wages Act.
Rene has handled matters through to appeal and works diligently to protect the rights of her clients. She is also passionate about pro bono work and has represented victims of human trafficking as both a lawyer and a Guardian ad litem. Rene has been selected to the South Carolina Rising Stars list in Family Law consistently from 2016 through 2021, as well as Charleston Business Magazine Legal Elite for 2019, 2020, and 2021. She completed her Juris Doctor, magna cum laude, at Charleston School of Law, earned her Master of Science in Education in Clinical Counseling from The Citadel, and has a Bachelor of Arts from the University of Virginia.
Ashley M. Fromm
Ashley M. Fromm specializes in medical malpractice, health care, correctional health care, and general liability matters. Prior to Hall Booth Smith, Ashley practiced in the fields of medical malpractice defense and complex business litigation for a Sarasota law firm and workers' compensation and insurance defense for a firm based in St. Petersburg. She also handled appellate work. Ashley has been named a "Best Lawyers: Ones to Watch" in 2022 and 2023. She earned her Juris Doctor, cum laude, from the University of Florida School of Law, where she was Executive Research Editor on the Florida Law Review. Ashley also holds a Bachelor of Science from the University of Florida, where she also became a Florida Blue Key alumni.
Carl C. Williams
Carl C. Williams focuses his practice on health care, professional negligence, medical malpractice, business litigation, and general liability matters. He joined HBS after working as a commercial litigation attorney at another firm in Birmingham for four years. He has been named a "Mid-South Rising Star" by Super Lawyers in 2021 and 2022. Carl earned a Juris Doctor from the Cumberland School of Law at Samford University, where he was a member of the Student Bar Association, the Graduate Student Council, and Cumberland School of Law's nationally ranked trial team. He also holds a Master of Arts and Bachelor of Arts, cum laude, from Mississippi State University.
Joel Henry
Joel Henry has a unique ability to integrate IP, technology, corporate and transactional, and securities law into solutions for clients engaged in entrepreneurship, capital raises, mergers and acquisitions, IP protection, and cutting-edge technology areas. He is one of the leading experts in Montana, and nationwide, on cryptocurrency and blockchain technology law. A significant area of his practice also includes complex, cutting-edge legal matters around new technologies including artificial intelligence, GDPR, and other data privacy laws, IT security, and data breaches. He also serves as an expert witness on litigation matters involving technology issues, electronic discovery, and digital forensics. Before Joel completed his Juris Doctor at the University of Montana, he earned his Doctor of Philosophy in Computer Science from Virginia Tech and spent more than 25 years as a faculty member in higher education.
We have a distinctive group of attorneys with unique talents across the board, and we believe each of them has the drive and the value to aid in our mission to benefit all of our clients as well as our attorneys across all practice groups and regions, said Alex H. Booth, Managing Partner at Hall Booth Smith. We congratulate each one on making Partner and look forward to supporting them as they advance their practices in the years to come.
About Hall Booth Smith
Established in 1989, Hall Booth Smith, P.C. (HBS) is a full-service law firm with six regional offices strategically located throughout Georgia, as well as offices in Birmingham, Alabama; Charleston, South Carolina; Asheville, Charlotte, and Raleigh, North Carolina; Jacksonville, Miami, Tallahassee, Tampa, St. Petersburg and West Palm Beach, Florida; Nashville and Memphis, Tennessee; Little Rock and Rogers, Arkansas; Oklahoma City, Oklahoma; Denver, Colorado; Paramus, Red Bank and Saddle Brook, New Jersey; New York and White Plains, New York; and Missoula, Montana. Experienced across a wide range of legal disciplines, HBS attorneys pride themselves on providing knowledgeable, proactive, client-specific counsel to individuals, domestic and international corporations, state and federal agencies, and nonprofit organizations. The firm's promise: "Serving to Achieve Excellence." To learn more, please visit: www.hallboothsmith.com  or connect with us on LinkedIn.