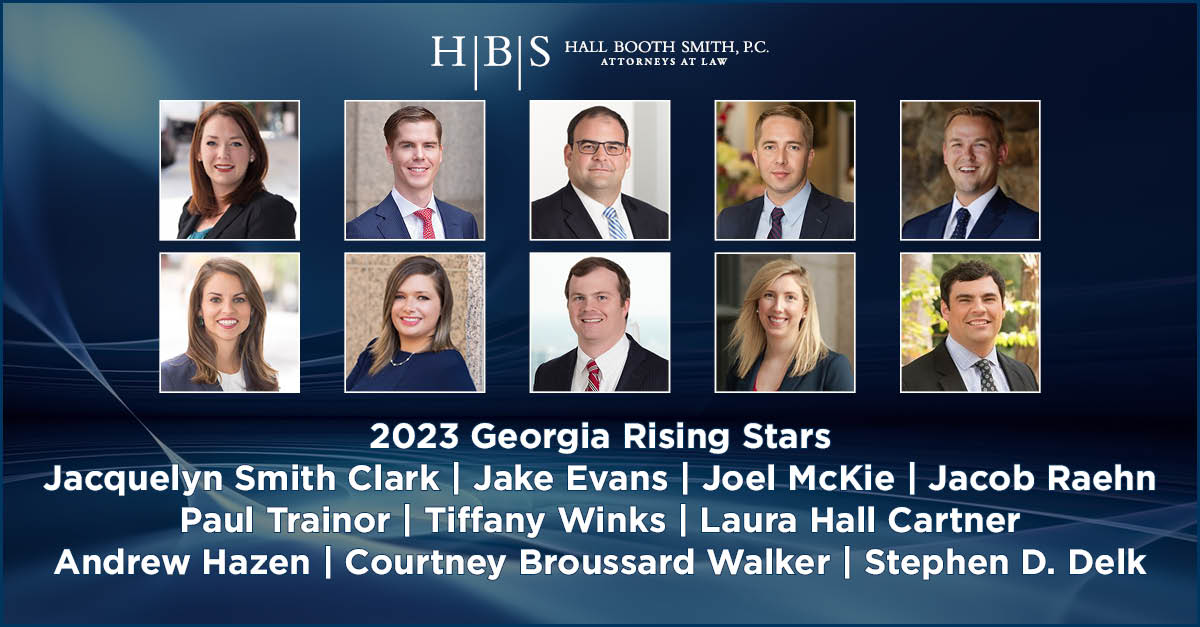 10 HBS Attorneys Recognized as 2023 Super Lawyers® Georgia Rising Stars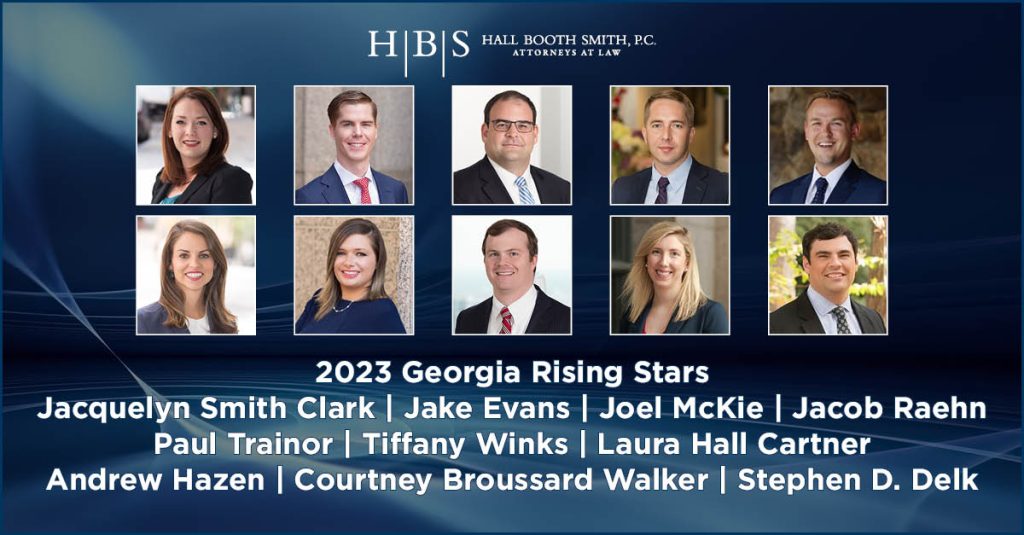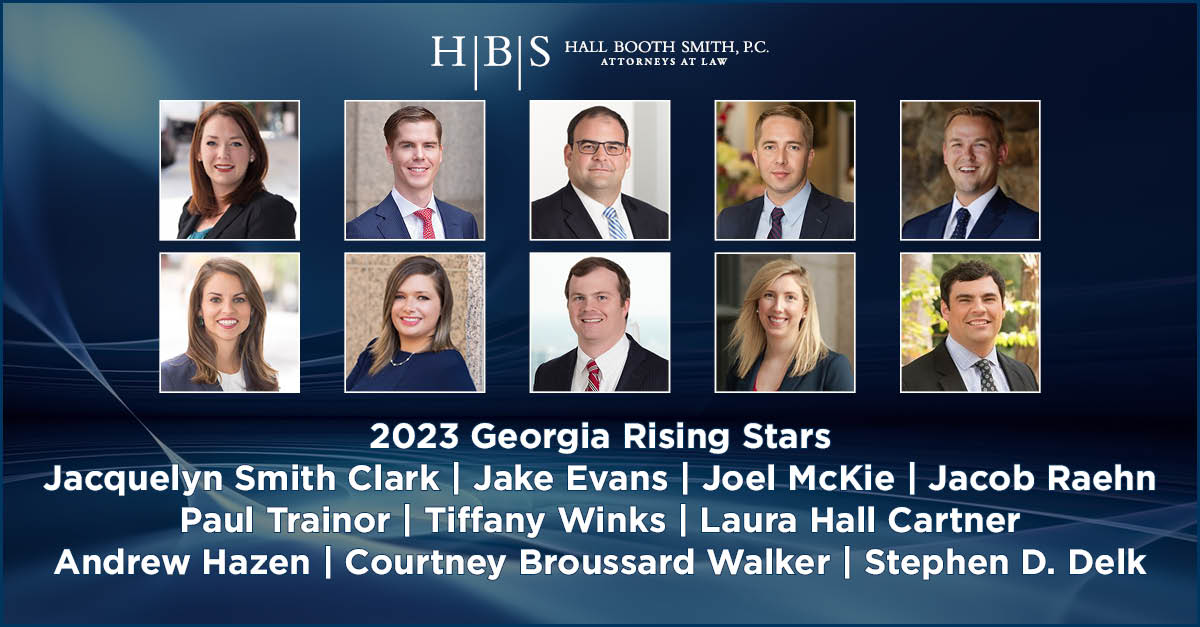 GEORGIA – – Once again, Hall Booth Smith has been recognized for its outstanding legal work as ten of its attorneys have been honored as Georgia Rising Stars® in the 2023 edition of the Georgia Super Lawyers® magazine. Attorneys Jacquelyn Smith Clarke, Jake Evans, Joel McKie, Jacob Raehn, Paul Trainor, and Tiffany Winks have received this honor along with first time honorees Laura Hall Cartner, Andrew Hazen, Courtney Broussard Walker, and Stephen D. Delk.
Jacquelyn Smith Clarke
Atlanta Partner Jacque Clarke was recognized for her work in personal injury medical malpractice defense. She specializes in the defense of health care providers and professional malpractice matters. Jacque focuses her practice on complex medical malpractice cases. Her experience includes a wide variety of areas including heart and spine surgeries, anesthesia claims, and birth trauma cases. She is also an active participant in both the firm's Women's Forum and Diversity, Equity, & Inclusion committees.
Jake Evans
Alpharetta Partner Jake Evans was acknowledged for his work in Business Litigation. Jake's practice consists of high-stakes, complex litigation; government and regulatory work at the local, state, and national levels; and corporate and transactional law. His litigation practice focuses on disputes involving breach of contract and fiduciary duties, residential and commercial real estate (including wrongful foreclosures, partitions, quiet title actions, and commercial leases), restrictive covenants involving non-compete, non-solicitation and confidentiality provisions, business dissolutions, partnerships and joint ventures, derivative corporate claims, note defaults and workouts, and intellectual property, including patents, copyrights, and trademarks.
Joel McKie
Partner Joel McKie, located in the Atlanta office, was honored for his work in business and corporate work. Joel counsels farm and agribusiness clients, both institutional and family-owned, during every stage of farm land and agricultural operations transactions. This includes negotiations, due diligence, closing, and post-closing integration and operations.  He also handles commercial, business, and real estate transactions across several other industries. Joel also currently serves on the Board of Directors of the Georgia Foundation for Agriculture
Jacob Raehn
Partner Jacob Raehn was recognized for his work in personal injury medical malpractice defense. Jacob has successfully second-chaired trials spanning Georgia, South Carolina, and North Carolina. He has extensive experience with complex litigation on a national scale. He is located in the Atlanta office of HBS.
Paul Trainor
Atlanta Partner Paul Trainor was selected for his work in personal injury medical malpractice defense. Paul has defended a variety of medical professionals, hospitals, apartment complexes, and property management companies; international hotels; and trucking companies as well as their respective and respected employees. The majority of his current practice is dedicated to the defense of catastrophic injury claims, and he has defended cases in six states across the country.
Tiffany Winks
Partner Tiffany Winks was acknowledged for her work in construction litigation. Tiffany, co-chair of the Construction Practice Area, has represented general contractors, developers, various subcontractor entities, a national window manufacturing company, and homeowners associations in a vast range of construction claims and disputes. She has experience defending claims arising from Americans with Disabilities Act compliance, breaches of contract, construction defects, construction delays, professional negligence, worker injuries / bodily injuries, and materials'/mechanics' liens. She is located in the Atlanta office of HBS.
Laura Hall Cartner
Atlanta Partner Laura Hall Cartner was honored for her work in health care matters. Laura regularly represents providers including hospitals, skilled nursing facilities, assisted living facilities, and sub-acute facilities in all phases of litigation related to both general and professional liability claims. She also maintains a regulatory practice, advising providers on regulatory compliance, assisting with internal investigations, self-reporting requirements, risk management, policy development, and legislative interpretation. As a member of the Coronavirus Strategic Team and Aging Services Practice Area, Laura assists providers as they navigate fast-changing regulatory and legislative guidance at the federal, state, and local level.
Andrew Hazen
Partner Andrew Hazen, located in the Atlanta office, was selected for his work in business and corporate matters. Andrew focuses his practice on corporate, transactional, and real estate matters. He also serves as outside general counsel to several small and mid-sized businesses in the agriculture/food, commercial real estate, construction, health care, insurance, and manufacturing industries. Andrew assists clients with asset purchases and divestitures, corporate formation and restructuring, labor & employment matters, leasing, OSHA compliance and investigations, and business and real estate litigation.
Courtney Broussard Walker
Attorney Courtney Broussard Walker was recognized for her work in civil litigation defense. Courtney defends hospitals, long-term care facilities, and other health care facilities as well as doctors, nurses, and chiropractors in a wide variety of professional negligence claims. She is located in the Atlanta office of HBS.
Stephen D. Delk
Tifton Attorney Stephen Delk was acknowledged for his work in personal injury general defense. Stephen has represented clients in a variety of civil litigation matters including premises liability, auto accidents, and professional negligence suits.  He has handled all phases of litigation, including pre-suit investigation, discovery, mediation, motion practice, hearings, summary adjudication, trials, and appeals.  Stephen has successfully represented business owners, farmers, hospitals, fraternities, retail stores, grocery stores, national restaurant chains, hotels, homeowners, landlords, and other owners and occupiers of land in premises liability actions.
HBS is extremely proud of its attorneys and would like to congratulate each recipient of the 2023 Super Lawyers® Georgia Rising Stars® award.
About Super Lawyers
Super Lawyers, part of Thomson Reuters, is a rating service of outstanding lawyers from more than 70 practice areas who have attained a high degree of peer recognition and professional achievement. Each year, no more than 2.5 percent of the lawyers in the state are selected by the research team at Super Lawyers to be named in the Rising Stars list. The annual selections are made using a patented multi-phase process that includes a statewide survey of lawyers, an independent research evaluation of candidates and peer reviews by practice area. The result is a credible, comprehensive, and diverse listing of exceptional attorneys.
The full list of this year's recipients can be found on the Super Lawyers website.
About Hall Booth Smith
Established in 1989, Hall Booth Smith, P.C. (HBS) is a full-service law firm with six regional offices strategically located throughout Georgia, as well as offices in Birmingham, Alabama; Charleston, South Carolina; Asheville, Charlotte, and Raleigh, North Carolina; Jacksonville, Miami, Tallahassee, Tampa, St. Petersburg and West Palm Beach, Florida; Nashville and Memphis, Tennessee; Little Rock and Rogers, Arkansas; Oklahoma City, Oklahoma; Denver, Colorado; Paramus, Red Bank and Saddle Brook, New Jersey; New York City and White Plains, New York; and Missoula, Montana. Experienced across a wide range of legal disciplines, HBS attorneys pride themselves on providing knowledgeable, proactive, client-specific counsel to individuals, domestic and international corporations, state and federal agencies, and nonprofit organizations. The firm's promise: "Serving to Achieve Excellence." To learn more, please visit: www.hallboothsmith.com or connect with us on LinkedIn.